Best used compact executive cars
The Jaguar XE is the best used compact executive in our Used Car Awards 2020
Best used compact executive car: Jaguar XE
Our pick: Jaguar XE 2.0d 180 Prestige (2016/16, 29k miles, £12,847)
Once again, the Jaguar XE is our best used compact executive car, and with good reason. The BMW 3 Series rival is a brilliant all-rounder that offers pace, practicality and a plush interior. It's also relatively inexpensive on the used market now; we found a mid-range 2.0-litre diesel model, with around 29,000 miles on the clock, priced at £12,847.
It's based on an aluminium-intensive platform which features double-wishbone front suspension and a multi-link rear axle, so the XE dishes up agile and predictable handling. There's slightly more body roll than you'll get in a 3 Series or Alfa Romeo Giulia, but the Jaguar can smother bumps and potholes with far greater ease than these sporty rivals.
There's a strong range of petrol and diesel engines with a choice of rear or four-wheel drive. We'd go rear-drive for better balance, and choose the 178bhp 2.0-litre diesel, because this provides more than enough performance, but also delivers affordable running costs for a premium model.
The XE's steering is precise and there's plenty of grip, so in the corners, it's only slightly behind the 3 Series for driver involvement. In fact, the Jag offers a mix of precision and ride comfort that few rivals can match, so with prices lower than a new supermini for a well equipped Prestige model, what's not to like?
The Jaguar's cabin also has a certain X-factor that the usual German rivals fail to match. Sure, the rear seats are a little cramped, but the dashboard layout is simple and attractive, while even entry-level models are fitted with parking sensors, automatic lights and a touchscreen infotainment system, and most cars were specified with leather upholstery.
Finance options
It's Prestige by name, yet the XE's monthly payments are anything but, at £251 on a three-year PCP finance deal with a £1,400 deposit for a typical model on BuyaCar.co.uk. The XE is also reasonably affordable for those looking to buy the car outright at the end of the contract, with an optional final payment of £6,125. Pay this and you don't need to hand the car back – it's all yours.
Commended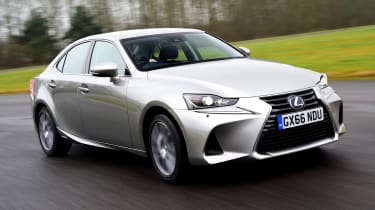 The third-generation IS forged its own path, with unique looks, a frugal hybrid powertrain and an unusually styled yet beautifully built interior. The approach seemed to work; owners put it well ahead of its compact executive saloon rivals in our 2020 Driver Power new car survey.
Left-field choice
Alfa Romeo Giulia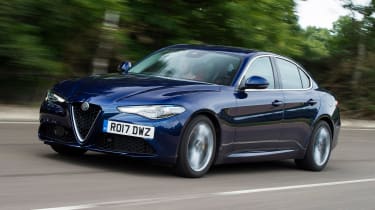 This car proved that Alfa could go up against BMW. Like the Jaguar XE, the Giulia is a balanced driver's car, but it has a quicker steering rack, a tauter chassis and a more eager range of engines. The trade-off is a slightly firm ride, but we'd accept this for the engaging handling