Ford Focus Electric - Best electric cars
The Ford Focus is a pretty good EV, although rivals offer greater range and cabin space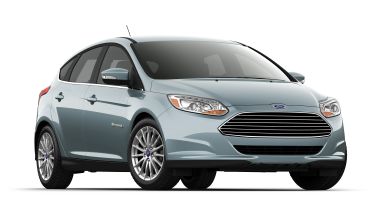 Is the Focus RS super hatch the priciest version of the Ford Focus on sale? Afraid not. The Focus Electric is the most expensive Ford Focus in the UK, based on list price. However, it does drop below the RS once you include the Government's Plug-in Car Grant.
So what do you get for your money? Well from the outside, there isn't much to mark the Focus Electric out from a top-spec Focus Titanium. There's a bright chrome grille - this was standard on the Focus Electric before the whole Focus range was updated in 2014 - while the EV version gets a charging socket on the nearside front wing. Aside from that, it could easily be mistaken for a petrol or diesel Focus, until you drive away under silent electric motion.
Under the bonnet, the Focus Electric has a 107kW electric motor in place of the standard car's conventional petrol and diesel engines. This means the Focus Electric can accelerate from 0-62mph in 11.4 seconds, which isn't that impressive really. At least the direct drive transmission takes the strain out of driving.
The Focus Mk3 is still one of the best handling hatchbacks on sale, although the Electric model has duller responses, thanks to the extra weight of its battery pack. The lithium-ion cells have a 23kWh capacity, which isn't too impressive when compared to the very latest electric cars.
That gives the car a claimed range of 99 miles, which again isn't up to spec with the latest EVs. However, if you do lots of short trips, and keep the car plugged in whenever you can, then that should be more than enough range. Inside, the Focus Electric is as well specced as a Focus Titanium, with plenty of useful gadgets and gizmos to keep you amused.
Best electric cars 2017