Mercedes CLC vs rivals
Is the new entry-level Mercedes coupé, the CLC, a strong enough premium package to take honours in its first test?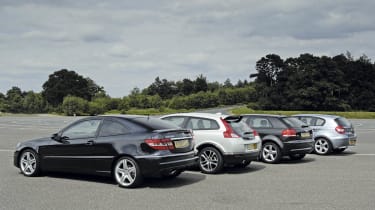 A taste of the high life on a down-to-earth budget – that's the tempting proposition put forward by compact executive hatchbacks. So, do they deliver?
One model that scored plenty of points for style but always lacked substance was the Mercedes C-Class Sports Coupé. While its sleek shape was popular, the driving experience could never live up to that of its Audi rival, the A3. And since BMW launched its extended1-Series range, the entry-level three-pointed star three-door has fallen off the radar in this sector of the market.
Mercedes bosses say all that's about to change with the launch of the new CLC. It aims to take the best bits of the old Sports Coupé and mould them into a more modern package.
That's much easier said than done, though – especially as the German model no longer has only its traditional Audi and BMW opponents to take on. It now faces stiff new competition from Volvo's style-conscious C30, too.
In this definitive shoot-out, we bring all four compact executive hatchback rivals together to find out which offers the best entry into the premium class.
Despite the rising cost of diesel, the black pump is still king in this market – so we test sporty oil-burning variants of each model.
Has Mercedes done enough to return to the top of the class it helped to create? We find out.
Verdict
Here's a verdict that could come as a shock to Mercedes bosses. It's unusual for the newest model in a test to finish last, but that's where the CLC has ended up.
We're just not convinced by the package, which makes only minor improvements over the C-Class Sports Coupé – especially as it's so much pricier than rivals here.
Some will buy the CLC for its image and looks alone, yet the poor rear visibility and lacklustre driving make rivals more attractive.
Volvo's C30 scrapes into third. It's perfect for anyone wanting something that stands out. Yet the compromised practicality, heavy running costs and average handling all leave it lagging behind the A3 and 1-Series.
The Audi finishes second. A facelift will soon help the A3 make more of a style statement, and many buyers will be tempted by its all-round talents. Our only question is whether it's substantially better than a cheaper Volkswagen Golf.
Leading the way is the BMW. The styling is still contentious and back seat space is compromised by the rear-wheel-drive platform. But it's a superb all-rounder. The 1-Series is the complete package.