New Ford Focus 2014 revealed: exclusive pics, specs and details
This facelifted new Ford Focus is at the 2014 Geneva Motor Show and will go on sale in July
A new facelifted Ford Focus has made its debut at the Geneva Motor Show. With some changes to the look of the car, as well as upgrades to the in-car technology and interior, this new Ford Focus is ready to rival the latest Volkswagen Golf.
We've had the chance to sit in the passenger seat to get an idea of what the new car will be like, and put together a Ford Focus 2014 ride review.
It gets a release date of July 2014 and a price likely to be broadly similar to the current Ford Focus, along with familiar trim levels like Edge, Zetec and Titanium.
You might recognise the face of the new Ford Focus: it's just like that of the new Fiesta and the next Mondeo (is due in November), with the Aston Martin-like grille taking centre stage on Ford's newest range of models.
• Geneva Motor Show 2014 on Auto Express
The oversized triangular air intakes on the front bumper of the current Focus were a controversial design choice, so they are gone this time around. With elongated foglamps, which help add a bit of visual width, and a chrome trapezoidal five-bar grille, this one looks much classier. The headlights have been redesigned, too, and now have a slimmed-down, more modern look.
A fresh bonnet features much more obvious creases than the outgoing version, and there are two additional shades of blue to choose from, plus new alloy wheel designs. Yet while these additions are fairly subtle, you can't fail to notice the improvement to the rear of the Focus.
Ford Focus 2014: hatch and estate
Both the five-door hatchback and the estate versions get new tail-lights. On the former, the rear lamps are smaller and look much better integrated into the design. The car appears wider at the back now, too, thanks to the crease that runs between each light across the new tailgate, and a revised rear bumper.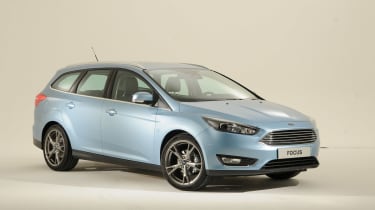 Inside, Ford has worked hard to improve quality, right down to adding new matt grey plastic strakes in the air vents for a classier look. The most obvious change, though, is to the centre console. Gone are the tiny buttons that were tricky to use on the move. These have now been incorporated into an eight-inch touchscreen, with the remaining controls for the air-conditioning being redesigned and simplified.
The multifunction steering wheel has been made a little simpler, too, and it now features three spokes instead of four. There's the option of a heated wheel as well.
Between the seats you'll find a new bottle storage area, which has sliding dividers that allow it to accommodate different-sized drinks. There's now also somewhere to place your smartphone, located in front of the gearlever alongside a power point and USB socket.
Also available is a host of innovative safety kit, incorporating a more responsive adaptive cruise control system, boosted blind spot warning which can detect crossing traffic when you're reversing, plus a parking system that can park the car either parallel or in a bay, and then drive it out again automatically.
There's a revised engine line-up, too. Ford claims the diesel units are eight per cent more efficient than before, while the petrols are an average of 5.5 per cent cleaner.
Ford Focus 2014: engine range
The fresh Focus is the first Ford to be sold in Europe with the new 1.5-litre four-cylinder petrol EcoBoost. It comes in 148bhp and 178bhp versions, and slots into the range above the existing 99bhp and 123bhp 1.0-litre three-cylinder EcoBoosts. Ford will also add a version of the 1.0-litre EcoBoost that emits 99g/km of CO2.
A naturally aspirated 1.6-litre four-cylinder petrol will be offered, too, in three states of tune: 84bhp, 104bhp and 123bhp. Diesel choices include the 1.5-litre TDCi in 94bhp and 118bhp guise, a 94bhp and 113bhp 1.6-litre TDCi and a 148bhp 2.0-litre TDCi.
Five and six-speed manual gearboxes will be standard, with automatics available as options. The latter can now be specced with shift paddles on the steering wheel.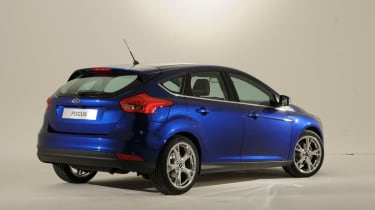 To complement the new engines, Ford has retuned the chassis. Changes have been made to the suspension geometry, dampers, electric power-steering and bushes in order to give the handling a more responsive and agile feel, and ensure the Focus remains the class benchmark for driving dynamics.
In response to customer feedback, refinement has been worked on, too. There is now sound-insulating glass, thicker carpet and better bulkhead seals to keep noise to a minimum.
Ford Focus 2014: SYNC gets smarter
The latest Ford SYNC system has been fitted to the new Focus, making it Europe's first Ford to get the SYNC 2 software. The original system essentially allowed drivers to use voice commands to do a variety of things, such as controlling the infotainment. However, SYNC 2 offers even more functionality – for example, it has 'one-shot' navigation, for which you can simply say a number, street name and city in one go and the navigation will begin directing you there.
There's also the option of pushing the voice control button and saying "I'm hungry". That'll bring up a list of local restaurants, helped by the Michelin travel guide, to which you can then navigate.
The navigation system itself offers 3D landmark views, clearer depictions of junctions and spoken street names for the first time in a European Ford. But it's not only the sat-nav that's been updated – you can also ask SYNC 2 to play a song from your favourite artist or even change the climate control settings.
Ford Focus ST 2014
The updates to the standard Focus are pretty drastic, but Ford's promising that its hot Focus ST will be even more striking – having admitted that the current car looks 'a bit tame'. There'll be some subtle chassis tweaks, yet the 247bhp 2.0-litre EcoBoost is expected to remain unchanged.
In detail: Ford Focus 2014 interior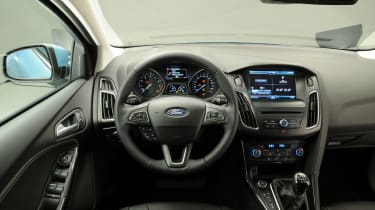 A four-spoke steering wheel replaces the old three-spoke item, and it comes with simpler controls that will be easier to use on the move. It's available heated as an option for the first time, too.
Ford has worked hard to improve quality even further. Chrome inserts, satin-black highlights and new matt grey strakes in the air vents all help to lift the feel of the cabin. The whole centre console is much cleaner than before, with many of the small buttons now incorporated on to an eight-inch central touchscreen. The heating controls have also been simplified.
Five and six-speed manual gearboxes are offered, as they always have been. A six-speed auto is still optional but buyers are now able to spec a pair of paddles on the steering wheel.