How to fit cruise control on you Defender
Defender TDCi is a practical motorway cruiser, so an aftermarket cruise control kit is a logical upgrade. Ed Evans reports.
With so many TDCi Defenders comfortably plugging long distances on main roads and motorways, it's surprising that they weren't all factory fitted with cruise control, considering it's been available on every other model since the mid-nineties.
Cruise is not just a luxury to take some of the stress out of driving, it's also a practical tool that can help you avoid speeding tickets without continually checking the speedometer needle, and it can be easily adjusted and reset to whatever speed is preferred, or to whatever speed limit is encountered. Yes, £475 plus your time seems a high cost, but a couple of fines, a speed awareness course and higher insurance premiums come close...
Installing this kit involves connecting in to sections of the vehicle's wiring system – to the brake and clutch switches and to the speed sensor circuit at the back of the instrument panel. It's important that the connections are soldered and insulated. Apart from these connections, the cruise control electronic module is simply connected using multiplugs on the supplied wiring harnesses.
When all that kit is tucked away inside the facia, all that shows is the smart new column stalk. When driving, cruise control is automatically de-activated when the brake or clutch pedal is pressed, and will remember the previously set speed. Vehicle speed can be increased by holding the RES/ACC (resume/accelerate) for more than 1 second, or tapping the button to increase speed (thus adjusting the set speed) in increments of 0.6mph. The SET/COAST button decelerates the vehicle in a similar way.
The cruise control kit is available for all TDCi Defenders, but the wiring colours are connected differently according to whether the vehicle is a 2.2-litre or 2.4-litre model. Here, in the Britpart workshop, Steve Grant is installing the system on a 2.2 TDCi, so the wiring colours shown here do not apply to the 2.4 version, though in every other aspect the installation is the same, and the colour coding is clearly shown in the instructions.
Tools: soldering iron, wire cutters/strippers, multi-meter optional, Torx 30 driverTime: 2-3 hoursCost: £475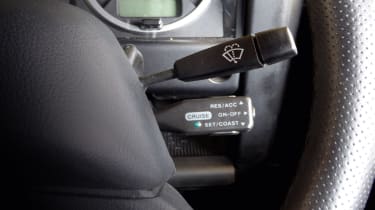 Britpart cruise control kit
The kit includes electronic control unit, harnesses with connectors, the cruise switch for the steering column, cable ties, instructions and owner's manual with diagnostic trouble-shooting guide. The unit provides all the functions found on most Land Rover cruise control systems, and the new column stalk looks like an original part of the vehicle. The kit has Britpart part number DA7480. Recommended retail price £475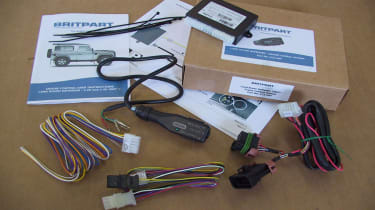 Click on the gallery below for our handy step-by-step guide…