Mercedes-Maybach S-Class gains S 580 e model: brand's first plug-in hybrid
The Mercedes-Maybach S 580 e is the brand's first plug-in hybrid with 503bhp and a 62-mile electric range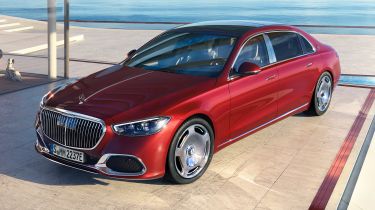 Plug-in hybrid technology has found its way to the very pinnacle of the Mercedes-Benz model range with the launch of the Mercedes-Maybach S 580 e. The super-luxury Maybach take on the S-Class flagship saloon gains the new powertrain as a more environmentally friendly alternative to the existing twin-turbo V8 and V12 options.
The S 580 e uses Mercedes' familiar 3.0-litre six-cylinder turbocharged petrol engine in combination with a battery and electric motor. The powertrain delivers a combined system output of 503bhp with 750Nm of torque, for a 0-62mph time of 5.1sec and a 155mph top speed - limited to 86mph in electric mode. 
More importantly to buyers drawn to this model by its green credentials will be official WLTP combined-cycle fuel consumption of between 235mpg and 294mpg, plus CO2 emissions in the 18g/km to 23g/km range.
Of course, getting anywhere close to those kinds of numbers in your Mercedes-Maybach S-Class will depend on regular charging of its battery, which can be done via a wallbox charger at up to 11kW. A fast-charging capability at up to 60kW is available as an option, and this would allow a full recharge in around 30 minutes. Once the battery is fully charged, the official quoted range on pure-electric power is up to 62 miles, allowing the car to theoretically do a large proportion of its urban journeys in zero-emissions mode.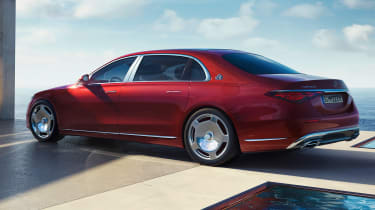 The only tell-tale external signs that the S 580 e is a plug-in hybrid can be found in the subtle blue colour accents added to the headlights and the charging flap on the left-rear flank. Inside, it's the usual Mercedes-Maybach S-Class opulence, albeit with a battery charge-state indicator on the instrument panel. 
Mercedes says that the plug-in powertrain "opens up an even more impressive experience of silence" in the Maybach S-Class, highlighting the suitability of this powertrain in a model designed for supreme refinement. The first plug-in hybrid Mercedes-Maybach model is a landmark that will shortly be overshadowed, however, by the arrival of the brand's first full EV before the end of 2023.
Now read our in-depth review of the Mercedes S-Class...