Best van deals 2018
We highlight some of the best manufacturer finance deals on large vans, small vans and pick-ups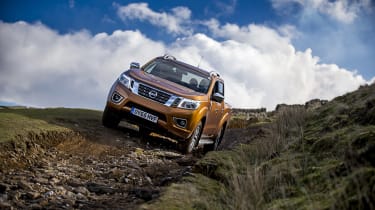 Smart business owners know how to manage their finances properly. And if your company needs a new van or pick-up to get the job done, then it's arguable that finding the best financial deal is more important than the kind of options you can get. So we've rounded up the finance deals that can help you to keep costs down on your new van or pickup.
While buying a van outright is one option, it's not necessarily the best deal financially if your outgoings and income are limited. And if you secure a van or pickup on finance, then you have the option of upgrading to the latest model when your deal is up for renewal. That means you'll have a well turned out new van every few years that will give customers a good impression, rather than an ageing work vehicle that will soon look tired and shabby.
Many manufacturers offer competitive deals for commercial vehicle users, with small deposit amounts and surprisingly small monthly costs. But there's more to these deals than simply offering low repayments, as maintenance and servicing deals are likely to be the kind of sweeteners that are included to tempt buyers into the van of their choice.
We've scoured the websites of a range of commercial vehicle makers to find the best offers available on a variety of new vans and pick-up trucks on sale today. All of these offers are as advertised by each manufacturer, but we reckon you can get to your local van centre and skim a little bit more off the top to seal the deal, so try and treat these numbers as the starting point for your negotiations!
Prices and figures quoted are excluding VAT (except where stated), because it will typically be reclaimable for business users.
Best van and pick-up deals 2018
Ford Ranger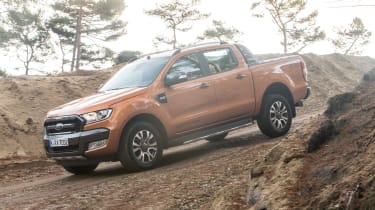 Ford's tough Ranger pick-up is available through a range of offers on Ford's website, and the well specced Limited 2 Double Cab with the 2.2-litre 4cyl diesel can be yours for £291 per month on contract hire.
The Limited 2 model nets you a lot of equipment, including 17-inch alloys, Ford's latest SYNC3 infotainment system with Bluetooth, leather seats, rear parking sensors and more. That monthly figure is yours if you can stump up six months in advance rental and keep on it for four years. Ford will also pay the road tax, breakdown cover and a 48 hour courtesy vehicle in case of breakdown.
• Check out our round-up of the best car deals on today's market
Contract Hire Initial payment: £1,746 47 monthly installments: £291
Mercedes X-Class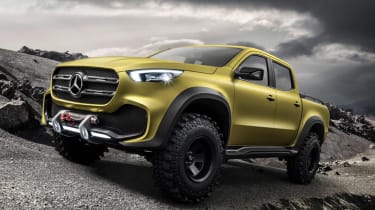 It's only been revealed in concept form so far, but demand for Mercedes' new double cab pickup truck is so strong that Mercedes-Benz Vans is already taking £1,000 deposits for the newcomer. The deposit is fully refundable, but if you want to be one of the first behind the wheel when the X-Class finally arrives in 2018, then log on to the Mercedes website now.
Mitsubishi L200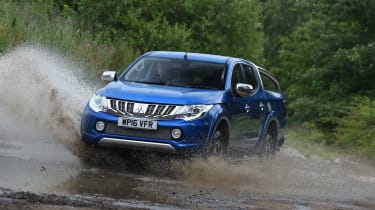 The Mitsubishi L200 has been king of the tough 4x4 pick-up truck segment for years - so much so that the Series 5 model was our Pick-Up of the Year in our 2016 New Car Awards, the second year it took the title.
Still, the latest L200 is an able workhorse with its new and efficient 2.4Di D engine, and in popular Titan spec can be yours in Double Cab mode for just under £200 per month via Mitsubishi's own contract hire deal – as long as you've got twelve months payment to put down up front.
Contract Hire Cash price: £21,249 Initial payment: £2,38835 monthly installments: £199
• Best pick-up trucks to buy now
Nissan Navara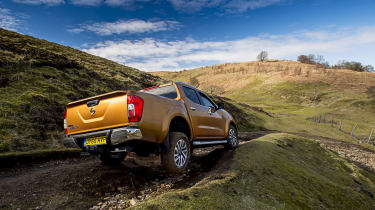 The Nissan Navara is the smoothest drive around in the 4x4 pick-up segment, thanks to a fancy multi-link rear suspension that still retains all the off-road capability owners have come to expect.
It's not quite SUV-smooth to drive on the road, but it's close, and that quality means the Navara appeals strongly to business users who want the tough style and practicality of a pick-up as an everyday vehicle. Chances are if you want to use a pick-up every day, you'll be wanting a decent amount of equipment. This where the Navara Tekna comes in; dual-zone climate control, reversing camera and part-leather trim are standard. However, beware that there's a 10,000-mile annual mileage limit.
Contract Hire Initial payment: £1,800 35 monthly payments: £300
Toyota Hilux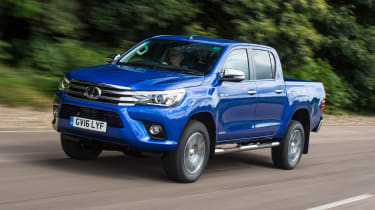 Toyota's durable and reliable Hilux can be yours for £271 per month.
That'll net you a 2.4-litre diesel Hilux Invincible model that comes laden with kit. Every Invincible model has a touchscreen infotainment system, LED headlights, cruise control, climate control and a multitude of safety systems including pedestrian safety assist and traffic sign recognition.
Contract Hire Cash price: £24,922Initial payment: £1,62635 monthly payments: £271
Ford Transit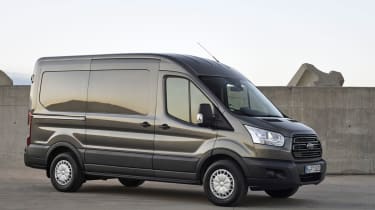 With a multitude of different models – incredibly Ford lists 450 variants – from panel vans to minibuses, a trio of fuel-efficient and torquey diesel engines, and improved driving dynamics, the latest Ford Transit is an impressive proposition.
Load volumes are up by 10 per cent for panel vans, and the driver's environment is excellent too.
It all means the Transit is right at the top of our best panel van top 10, but if that's not enough to make you want one, Ford has some tempting low interest rate offers, like this 0.9% APR and £2,700 manufacturer contribution on a four year balloon payment deal for the Transit 350 Trend L3 H2 2.0 TDCi EcoBlue 130PS RWD model.
Finance purchase with balloon payment Cash price (with £4,500 contribution/dealer savings): £30,714 (Inc VAT) Customer deposit: £10,121 48 monthly payments: £399Final payment £5,717
Volkswagen Transporter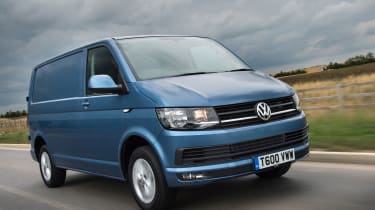 The latest Volkswagen Transporter features an upgraded engine range, plus significant in-cab enhancements to make sure it retains its place in the sales charts.
As well as the company's renowned build quality, the Transporter now features a full range of Euro 6 diesel engine options and a raft of safety kit such as Active Cruise Control, Lane Change Assist and Post-Collision Braking. With Caravelle and Shuttle minibus options, the sharper Sportline trim and optional four-wheel-drive, the Transporter still plays to its enduring strengths – a fact which helped it clinch the 2016 International Van of the Year Award. You can drive away in a T26 SWB 2.0 TDI Startline 102PS for £239 per month with a Volkswagen finance purchase, including a £500 VW contribution to your down payment.
Finance purchase with balloon paymentCash price: £24,813Volkswagen contribution: £500Customer first payment: £1,43436 monthly payments: £239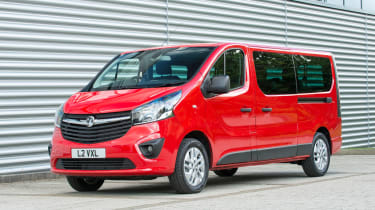 Behind the looks of the latest Vauxhall Vivaro,
its carrying capacity has been enhanced across the range, it's very comfortable on those long-haul motorway trips, and there's an excellent line-up of turbodiesel engines that offer terrific economy and efficiency.
Best of the bunch is the 118bhp (120PS) 1.6 CDTi BiTurbo which, with ecoFLEX stop-start, can return up to 47.9mpg on the official government combined test cycle.
If you want to buy one, Vauxhall's 4x4x4x4 deal should appeal, with 4 years' zero per cent APR credit, 4 years' free servicing, 4 years' warranty and 4 years' breakdown cover thrown in. But leasing looks attractive too, at just £235 per month for the Vivaro L1 H1 Sportive 2700 1.6 CDTi BiTurbo.
Contract hire
Cash price: £22,758 Initial payment: £2,892 23 monthly payments: £241
Mercedes Sprinter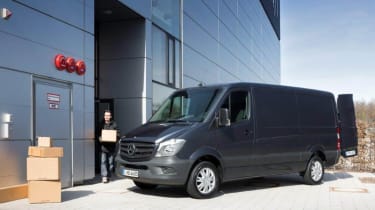 For customer facing businesses in particular, the prestige of a Mercedes badge on the grille of your van can make a subtle but appreciable difference to your public image.
But in spite of its popularity and impeccable credentials, the Sprinter is coming to the end of its life, and we're expecting a new version to be unveiled in 2017. Which is good news if you want to buy a Sprinter now, as you can drive away in a 214 CDI SWB Premium Edition for £289 a month on Merc's Agility balloon-payment lease deal – thanks to a hefty £3,450 deposit contribution from the manufacturer.
Finance purchase with balloon paymentCash price: £26,091Customer deposit: £7,180Mercedes deposit contribution: £3,40048 monthly payments: £289Optional final payment: £7,600
Citroen Berlingo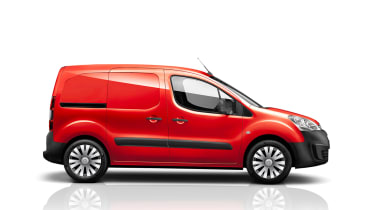 The Citroen Berlingo feels as though it's been around for donkey's years, but a refresh in 2015 gave it a worthwhile new lease of life.
Sure, there are newer competitors around that are more pleasant to drive, but you can't argue with prices for the panel van that start at just £10,226. Euro 6 BlueHDI engines are also offered on the Berlingo spec sheet, giving up to 68.9mpg and 109g/km of CO2, along with a six-speed automatic gearbox, and a 7-inch colour touchscreen option.
Granted, you won't get all that on the Berlingo Panel Van HDI manual L1 in Enterprise spec, but at least you do get parking sensors. And for £189 per month on a Citroen contract hire deal, it's almost as cheap as chips.
Contract hireCash price: £15,500Initial payment: £1,07436 monthly payments: £179
For more options visit our sister site BuyaCar for new and used van deals.