Next Ford Kuga previewed by updated Escape model
The Ford Escape is the sister car to the European Kuga, and a facelift may preview changes for the Kuga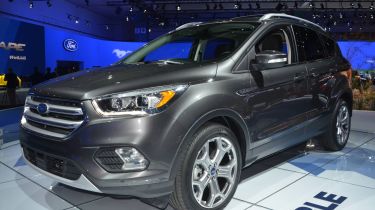 The Ford Escape is an unfamiliar name in the UK, but it's not an unfamiliar car. It's in fact a Ford Kuga, renamed for the American market – and the updated version unveiled at the LA Motor Show may preview what the Kuga will look like when it gets its own makeover.
The chunky SUV styling receives a bolder face, with a big hexagonal grille in contrast to the Kuga's slightly anonymous front end. Bolder headlamps and reshaped front and rear bumpers bring it in line with the fresher Ford Edge.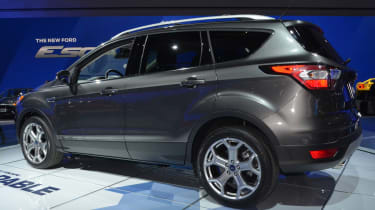 Inside, changes are more minimal, but there's a new electronic handbrake to replace the conventional one as well as some tweaks to the equipment list – adaptive cruise control and park assist have been added. The SYNC infotainment system is updated to SYNC 3, which Ford claims is faster and more responsive than the current system. It will also provide a smartphone app called Sync Connect that allows owners to remotely monitor their vehicle, lock and unlock doors and start the engine.
As it's for the US market, the Escape doesn't feature the diesel engines we get in Europe – so it's available with the same 1.5 and 2.0-litre EcoBoost petrols seen in the UK model, as well as a naturally aspirated 2.5-litre model. If it comes to the UK we'd expect to see updated versions of the 2.0-litre TDCi diesels that make up the majority of the sales.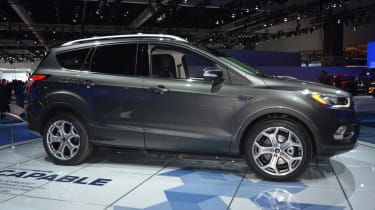 Ford's 'One Ford' policy suggests that the European Kuga will be set for a very similar update. The policy means that a single model is sold across the world, with very few changes for the region it's sold in – a British Ford Fiesta is much the same as a Malaysian one, for example. 
We don't expect these changes to arrive on the Kuga until 2017, and when they arrive they will form a mid-life facelift.
What do you think of the facelifted Ford Escape? Let us know below...