Best Compact SUV: Range Rover Evoque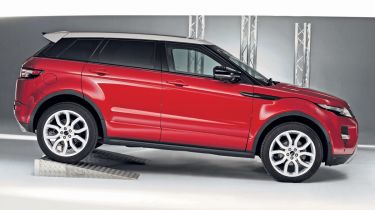 Why it won...
It's amazing to think a year has passed since the Evoque beat all-comers to scoop our overall Car of the Year prize, as it is still such hot property.
The baby Range Rover has helped transform the fortunes of the entire company and lengthy waiting lists bear testimony to its desirability. It's easy to see why, because the car looks like a concept that has driven straight from the styling studio on to the high street.
Since last year, the efficient eD4 version has hit showrooms, too, so the Evoque now has even more widespread appeal. With two-wheel drive and CO2 emissions from as low as 130g/km, the entry-level model is aimed squarely at company car drivers – and you can see why they'll be tempted. Nothing else at this price turns heads like the Range Rover, and it comes comprehensively equipped, too.
Best of all, the Evoque's hatchback body is surprisingly practical for a car that majors on style and design rather than versatility and space. A decent 420-litre boot and comfortable rear seats make it perfect for families.
Classy touches include a Jaguar-style rotary gear selector and puddle lights in the door mirrors that project a silhouette of the car on to the ground at night.
There's more to the Evoque than a glamorous cabin and striking design, though, because it drives more like a sporty hatch than a tall-riding SUV, with decent performance, a smooth-shifting automatic gearbox and entertaining handling. Best of all, it was designed, engineered and is built in Britain.
Our choice: 2.2 TD4 Pure
If you want the full concept car experience, the stylish coupe is the best Evoque, but we prefer the added versatility of the five-door model. It looks almost as good as the sporty three-door, but in 2.2 TD4 trim it doubles as a sensible, and surprisingly practical, family hatch.
Commended
Land Rover Freelander 2
Land Rover has been making world-beating off-roaders since 1948, and the Freelander 2 shows just what this kind of pedigree gets you. Its upper crust image is only the start, because beneath its classy exterior lies the most talented off-road chassis in the class.
BMW X3
Buyers are spoiled for choice here. While the Freelander 2 rules the roost off-road, the X3 is the class leader on it. Sharp handling and a range of efficient diesel engines make the BMW a very desirable package. It's no mug in the mud, either, so the X3 is a great all-rounder.