Tesla Model 3 line-up tweaked as new 400-mile Model S Long Range Plus arrives
Tesla Model 3 and Model S receive spec adjustment, with extra tech and updated software increasing range across the board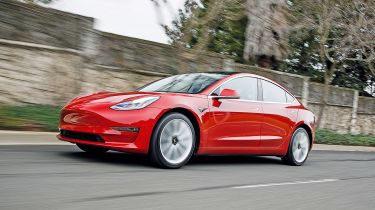 Tesla has updated its vehicle line-up with a handful of cosmetic tweaks and technology revisions, along with some chassis and drivetrain improvements. The American EV brand says these latest modifications have increased the efficiency of its entire line-up, while adding more value for money.
Most notably, Tesla has introduced a new Model S Long Range Plus specification, with a maximum claimed WLTP range of 405 miles – which is by far and away the longest range of any electric car currently on sale today.
However, the means by which Tesla achieved this impressive range figure are yet to be fully explained. So far, all we've been told is that the new Model S features a "significantly" lower kerb weight, an improved regenerative braking system and a few efficiency tweaks for its electric motors. We're also told that the Model X has benefited from the same update.
Tesla has also lowered the price of each Model S variant by around £3,000 – meaning the Long Range Plus now starts from £74,980, while the Performance variant has a new entry-price of £89,980. However, the price of the Model X has remained unchanged at £82,980 for the base-model and £97,980 for the flagship.
The Model 3 has received the broadest range of updates. It's a little bit faster than the old car, with a 0–60mph time that's 0.1 seconds quicker for every version. Now, the flagship Model 3 Performance will dispatch the sprint in a claimed 3.1 seconds.
Tesla's cosmetic updates for the Model 3 include fresh satin black side repeaters, door handles and exterior trim. There's also a new power-operated tailgate, more efficient tyres and a choice of new alloy wheel designs, in either 18, 19 or 20-inch diameters.
Inside, buyers get some updated matte black dashboard trim, satin black treadplates, graphite-finished seat adjustment controls, metal scroll wheels on the steering wheels and a new inductive charging pad with space for two smartphones. The Model 3's sunvisors now also feature a magnetic clasp to keep them secure when not in use.
Like the rest of Tesla's line-up, the Model 3's WLTP range figures also get a shot in the arm. The Standard Range Plus and Long Range variants can now travel an extra 13 miles between charging stops, while the Performance benefits from an extra 23 miles – which takes the three cars' range figures to 267, 360 and 352 miles respectively.
What do you make of the updated Tesla range? Let us know in the comments section below…