Best used small 4x4s and SUVs
The Citroen C3 Aircross is the best used small SUV in our Used Car Awards 2020
Best used small 4x4 and SUV: Citroen C3 Aircross
Our pick: Citroen C3 Aircross PureTech 110 Feel (2018/18, 27k miles, £8,595)
Citroen's quirky design and comfort-orientated outlook seem tailor-made for the small SUV segment. It's a sector that prioritises urban style, an upright stance and suspension that can deal with the country's worst potholes and biggest speed bumps. And by any measure the C3 Aircross excels.
It's one of the most spacious models in the class; the boot is of a decent size, two adults can sit in the back in comfort in those forgiving seats, and its big windows bathe the interior in light, particularly on models fitted with a glass roof. This does eat into the headroom, though, so it's certainly a case of try before you buy. Up front, the seats are wide, and the dashboard layout is funkier than the class norm.
The C3 Aircross drives well, too. The suspension is soft, and while the steering is pretty remote, the engine range manages to deliver punchy and refined performance. You can pick from two 1.2-litre petrol engines and a 1.6 BlueHDi diesel, but it's the 109bhp 1.2 turbo petrol that we think is the best for running costs, at the same time as delivering all the go you'd really need in a car like this.
All well and good, but what makes it our best small used SUV? It's the fact that it's so well priced. There's no shortage of two-year-old, sub-£9,000 models that have covered 25,000 miles, so there's plenty of life – and in some cases the balance of the new-car warranty – left.
The majority of those cars are with our preferred engine and in Feel trim, which includes kit such as Android Auto and Apple CarPlay, operated through a seven-inch touchscreen. This also controls the air-con, although that feature won't suit everyone.
Finance options
It could be this Citroen SUV's striking looks that attract you, but the low monthly payments are equally attention-grabbing. Given the car's cash price, the Instalments are low, at £170 – pretty affordable for a two-year-old car of this size – with a small deposit of £950. Part of the reason is that the car holds its value well; this results in low monthly payments, but a higher price to pay to buy the car when the contract ends – £4,563.
Commended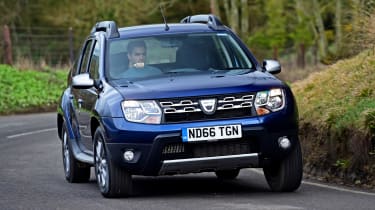 For buyers on a budget, there's no better small SUV than the Duster. It's cheap to buy new, which means it's an even bigger steal used. Factor in genuine off-road talent and lots of interior space, and there's plenty to like. Access models are very basic, though, and a so-so safety rating might concern some.
Left-field choice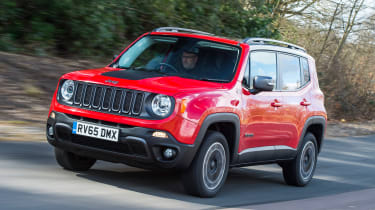 If you want a small family SUV that looks like it means business, then the Renegade is the only choice in town. While it has rugged looks, running costs are low, thanks to engines shared with the Fiat 500X. Inside it has heaps of character, and its boxy shape means space is plentiful, too.