Peugeot unveils new PureTech three-cylinder engines
New PureTech engines, the first direct injection turbos developed solely by Peugeot, to make their debut in the 308 this month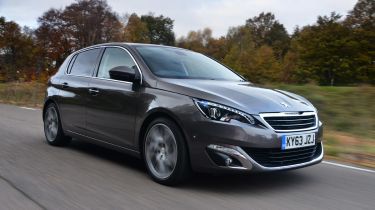 Peugeot has announced a range of three-cylinder petrol engines to replace its 1.6-litre straight-four unit.
Named PureTech, the modular family includes naturally-aspirated and turbocharged 1.0- and 1.2-litre engines, and will initially feature in the 308 and 308 SW from the end of March, before appearing in the 108, 208 and 2008 crossover later in the year.
Power options across the range extend from 67bhp to 128bhp – top-end performance matches the old 1.6-litre four-cylinder thanks to an updated turbo and redesigned direct injectors. Improved materials and a compact design also see average fuel economy for the PureTech family improve by 18% over its predecessor engines.
According to Dennis Fourchon, Chief Engineer of PureTech, this is in line with Peurgeot's main objective for the new engines, "to have a real benefit in fuel economy without any drawbacks" in terms of performance.
That's certainly the aim of the new range-topping 128bhp 1.2-litre e-THP turbocharged direct injection engine, which comes with either 108 or 128bhp. It's the first petrol engine of its kind developed exclusively by Peugeot and will initially feature in the new 308 – returning a claimed 61.4mpg and emissions of 107g/km of C02 – before making its way over to the 2008 Crossover and 208 later in the year.
Four years in development and the work of 250 engineers, the PureTech engine is part of a multi-million pound investment targeted at reducing the PSA Group's average C02 emissions to 95kg/km by 2020.