Astra vs Astra
Vauxhall Astra VXR vs Vauxhall Astra GTE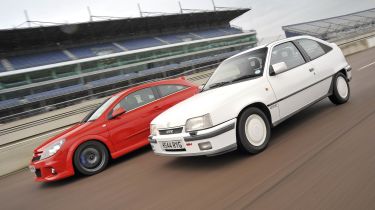 Motoring trends come and go, but hot hatches have always tugged at the heart strings – even when spiralling insurance and a recession forced many makers to axe their offerings in the mid-Nineties. When they returned in greater numbers a few years later, our obsession with all things fast and front-wheel drive grew.
Few manufacturers were as prolific in this market sector as Vauxhall. With its 156bhp engine, futuristic styling and rally heritage, the 1990 Astra GTE was just about the coolest, fastest and most desirable hot hatch then. It even had a performance and price advantage over VW's Golf GTI.
Fast forward nearly 20 years, and not much has changed. The GTE badge has given way to VXR, but the Astra remains the edgy choice. What sets the new car apart is its 237bhp 2.0-litre turbo, which makes it one of the most powerful front-drive hatches on sale. The GTE's 2.0-litre develops 156bhp – only 5bhp more than a current Astra 1.9 diesel. Still, these cars are clearly cut from the same cloth. The GTE compensates for its power shortfall with a lighter body and great reactions. While the VXR is quicker, crash test features and creature comforts make it feel heavier.
Without the GTE, the VXR wouldn't be the car it is today. Sure, there's a massive performance gap – but when it comes to raw thrills, that gap is far narrower.
Facts and figures
Vauxhall Astra VXR vs Vauxhall Astra GTE
Price new: £19,575 / (1992) £7,344Engine: 1,998cc / 1,998ccTransmission: Six-speed manual, front-wheel drive / Five-speed manual, front-wheel drivePower: 237bhp / 156bhpLength/width/height: 4,290/1,753/1,415mm / 4,000/1,660/1,400mm