Mercedes E 300 e - best plug-in hybrid cars
The plug-in hybrid Mercedes E 300 e emphasises all the great hallmarks of the regular E-Class with little drawbacks.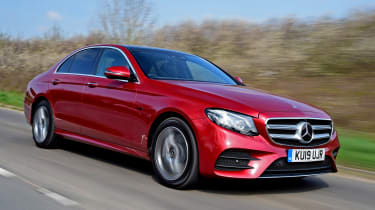 The Mercedes E-Class is among the best in the executive saloon class for ride quality and overall refinement and the combination of an electric motor with a 2.0-litre four-cylinder petrol engine accentuates the relaxed character of the E-Class
The E 300 e is Mercedes' answer to the BMW 530e - which also features a 2.0-lite petrol engine mated to an electric motor. The E 300 e costs from around £47,000 is SE guise, roughly the same as the BMW. 
Like the E 300 de, the 'e' can be switched to hybrid mode - utilising both the electric motor and combustion engine or to 'E-Save' mode which gives you petrol-only power or 'E-mode', which lets you run solely on the 13.5kWh battery for up to 30 miles. As you'd expect, the transitions between each mode are smooth and barely noticeable. 
The main reason why you'd pick the E 300 e over the substantially cheaper E 200 is due its relatively miniscule emissions of 46g/km. This places it in the 16 per cent BIK tax bracket for the 2019-2020 financial year, so it should appeal to company car users. 
The hybrid system's combined output is 316bhp, giving you more than enough power to comfortably perform overtakes at motorway speeds. 0-62mph is dealt with in 5.7 seconds, but if you start thinking the E 300 e can masquerade as a performance car, the 300kg added weight over the combustion-engined model leaves it feeling wallowy and lethargic in the corners. Your best bet is to relax and enjoy the silky smooth ride the E 300 e has to offer. 
Top 10 best plug-in hybrids to buy now