Renault ZOE - Best electric cars
Renault has gone for electric cars in a big way and the stylish ZOE supermini suggests it could be on to something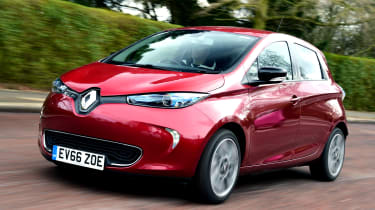 Some car makers have dipped a toe in the water of mass marketing electric cars, but Renault has jumped in with both feet. The ZOE offers a zero emissions powertrain, well equipped interior and acceptable performance, all for a much more reasonable price than we've so far seen from electric cars.
It currently has no obvious rivals, but costs a similar amount to a diesel Clio. It's so like a normal car to drive that only the limitations of its range make it less practical than an ordinary supermini. Speaking of range, Renault quote figures of 250 miles on the NEDC cycle. Impressive by most electric car standards, but that is going to drop significantly if you drive anywhere that's faster than city streets.
The ZOE R110 has an electric motor that develops 106bhp, but more important is the 225Nm of torque it develops as soon as the motor turns, giving very sprightly acceleration. However, push on and you'll soon notice the ZOE run out of puff, as it struggles at higher speeds and on steep inclines.
Just like in the VW e-up!, the ZOE's conventional gear selector and handbrake mean the initial driving experience is refreshingly normal.
You simply power up, select drive and accelerate away. On the move, the ZOE's steering feels more artificial than the e-up!'s and with 290kg of batteries to lug around, it's a little inert compared with the VW (which is 254kg lighter). Body control isn't bad, with the batteries mounted beneath the floorpan, but the Renault seems nose-heavy.
Best electric cars to buy 2019