Mercedes vs Mercedes
Mercedes C63 AMG vs Mercedes 190E Cosworth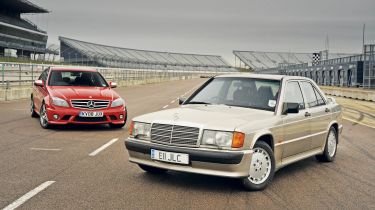 The battle to create the world's greatest super-saloon has consumed the German car industry for 20 years. What started as a racing rivalry in the Seventies has spilled out on to the road, with Mercedes, BMW and Audi trying to get the upper hand.
But while the current batch of mega-saloons – including this C63 AMG – has thunderous V8 and V10 engines, the cars that started the revolution were fitted with relatively low-capacity four-cylinder units.
Of all the racing specials that emerged in the Seventies and Eighties, the Mercedes 190E Cosworth became the darling of the performance set. It was designed to win the DTM German touring car championship, and the original 2.3-litre did just that, and also set 12 endurance world records.
It was replaced in 1988 by this 2.5-litre model. And as with its predecessor, it had a hand-built 202bhp 2.5-litre Cosworth unit.
There's a clear link between the 190E and the new C63 AMG. While Mercedes has given the C-Class a number of faces over the years, and the latest generation features a few more curves, the classic proportions have remained constant.
On the road, however, the 190E and C63 are markedly different. Although both have racing roots, the 190E feels closer to the track than its modern brother. Man-handling the dog-leg gearlever into first is like wrestling with a giant Meccano set, while the obvious lack of soundproofing and rock-hard ride mean even short journeys can be a test of endurance.
The C63 AMG, in contrast, is high-performance motoring at its most luxurious. Drag the automatic gearshifter to the 'D' position, hit the throttle and marvel as the 457bhp 6.2-litre V8 pushes you deep into the leather bucket seats.
So is the spirit of the original still evident? There's no doubt about it. Although the driving experience has changed, Mercedes' obsession with wringing the maximum performance out of a humble family saloon hasn't.
Facts and figures
Mercedes C63 AMG vs Mercedes 190E Cosworth
Price new: £50,342 / £29,900 (1988)Engine: 6,208cc V8 / 2,464cc 4cylTransmission: Seven-speed auto, rear-wheel drive / Five-speed manual, rear-wheel drivePower: 457bhp / 202bhpLength/width/height: 4,581/1,770/1,449mm / 4,430/1,720/1,342mm