Hyundai Kona Electric - Best electric cars
Hyundai Kona makes use of battery sharing to create oen of the best EVs on the market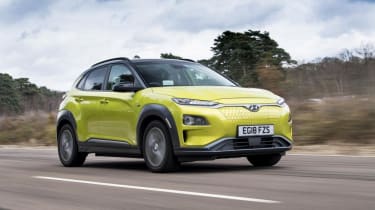 Price £27,111-£37,611
Range 180-278 miles
Charging time: 6h 30 min-10h 15 min (wallbox), 50 min/44 min (10-80%, 50kW/100kW)
Rating: 4/5
We weren't exactly fans of the regular Kona when we first tested it, but our views changed when we tried the pure-electric version. More than two years on, and this is still one of our favourite EVs, with funky styling and, if you opt for the larger 64kWh battery, a range of 278 miles. Recent upgrades have boosted the infotainment system too, giving the Kona Electric a proper widescreen display for the first time.
But more importantly prices start from just over £30,000, after the Government's Plug-in Car Grant, which makes it one of the more competitively priced EVs on sale.
If there's a downside, it's the fact that the Kia e-Niro has much of the same technology in a slightly larger package that brings greater practicality; the Kona is just about big enough to be a family car, but you could end up cursing the boot space. However, as an urban runabout that requires charging every other week, it takes some beating.
Best electric cars to buy 2020