Mercedes E 300 de - best plug-in hybrid cars
The Mercedes E 300 de offers a familiar yet cost-effective alternative to mainstream company cars.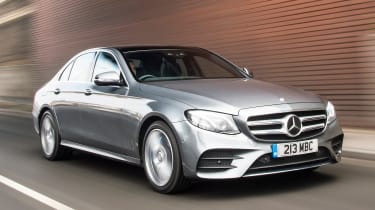 With Mercedes' eye-opening economy claims of 166.2mpg and emissions of just 41g/km the E 300 de will firmly grab the attention of those required to pay BIK company car tax. 
The E 300 de is available in two trims, SE and AMG and as either a saloon or estate. The SE saloon starts from around £47,000, in comparison an E 220d SE saloon which features the same 191bhp diesel engine as the de costs from around £37,000. 
So private buyers will have to make sure you do the miles to make up for the near £10k premium over the E 220d, but even if you don't the de shouldn't leave you feeling short-changed.
The combination of the 13.5kWh electric motor and 2.0-litre diesel four-cylinder should prove more than powerful enough with a 0-62mph time of 5.9 seconds and a total output of 302bhp. It's also smooth, which will be beneficial to those doing high motorway mileages wanting a refined ride. The overall refinement of the powertrain is aided by the slick nine-speed automatic gearbox - transitions between the diesel-only mode to hybrid mode to electric-only is almost seamless, making the E 300 de a pleasure to drive on long journeys. 
For £2,000 more there's also an estate version, which helps to alleviate the 100-litre loss of boot space due to the electric motor. 
The interior is identical to a normal E-Class, with the hybrid system interface in the digital cluster the only difference. Despite the cacophony of menus and settings you can control from the infotainment, it remains easy to use and one of the best systems on the market.
Top 10 best plug-in hybrids to buy now