BMW Z8, The World Is Not Enough (1999)
BOND FACT: The film's 14-minute pre-title sequence is by far the longest of any Bond film.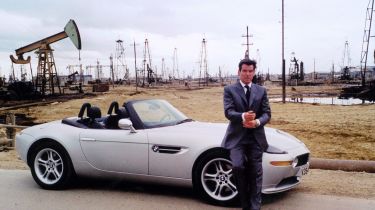 BMW saved the best until last for its final outing in a Bond film. After the slightly limp Z3 and sober-suited 750iL, the muscular and stylish BMW Z8 roadster suited Britain's favourite spy down to the ground.
As ever, the car came packed with a huge array of hi-tech gizmos and gadgets, to which Pierce Brosnan's Bond is introduced by Q's new assistant, R (played by John Cleese).
These included a special key fob that could be used to drive the car remotely, plus titanium armour to protect Bond from the flying bullets of various henchmen.Yet the most spectacular addition to the BMW was a pair of surface-to-air missiles hidden behind vents in the car's front wings.
Unfortunately, the Z8 met a grisly end when it was chopped in two by a circular saw hanging from a helicopter belonging to Bond nemesis Elektra King. However, BMW fans shouldn't fret, as no Z8s were harmed in the film – the roadster's launch wasn't until several months after its release, meaning the model on screen was mocked up using a Corvette engine and a kit-car chassis.
• Aston Martin DB5• Lotus Esprit• Sunbeam Alpine• Aston Martin DBS• Ford Mustang Mach 1• Aston Martin Vanquish• Citroen 2CV• What the villains drove