Toyota Approved Used car scheme
Everything you need to know about the Toyota Approved Used car scheme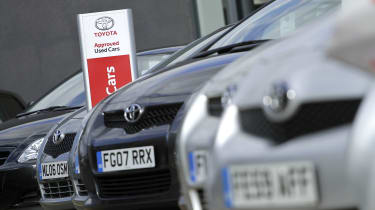 It says it all that Toyota will sell you a car that's up to 12 years old and that's covered up to 100,000 miles – few rivals would have the confidence to do that.
The company sells models from other brands through its approved used scheme, too, but while its own cars come with the balance of the original five-year/100,000-mile warranty (or a 12-month/unlimited mileage guarantee for older models), vehicles from rival marques are packaged with just a 12-month warranty.
In theory you could buy a sporty Celica or MR2 within this scheme, but the cheapest cars we could find were various Aygos priced from £3,000 with generally no more than 40,000 miles on the clock.
Disappointingly, the exchange period is one of the stingiest here, as it comes with a 500-mile limit – although it runs for the same 30 days as most rivals. Other than that it's standard fare, with the usual checks and 12 months' breakdown cover.
Toyota Approved Used scheme: key facts
| | |
| --- | --- |
| Max age/mileage | 12 years/100,000 miles |
| Breakdown cover | 12 months |
| Exchange policy | 30 days/500 miles |
| Standard warranty | Balance of five years/100,000 miles, or 12 months/unlimited miles |
| Extendable warranty | N/A |
| Website link | www.usedcars.toyota.co.uk |