Best electric SUVs to buy now
Pure electric SUVs are a boom market just now and here are the 10 best...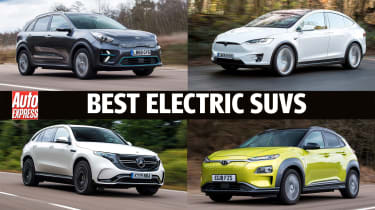 This decade will see the popularity of electric cars rise at a phenomenal rate. Ever-improving battery tech, faster charge times and - crucially - an increased charging infrastructure will see the market flood with a huge range of new EVs.
On top of all of that, there's pressure from world governments to force manufacturers to drop their average fleet CO2 emissions by a significant margin over the coming years. Big, heavy SUVs are generally the worst offenders when it comes to tailpipe emissions, and given their ever-growing popularity among car buyers, what better place for car firms to kick off the EV boom?
The choice on the market is ever-increasing, with all sorts of car manufacturers due to get in on the EV SUV act by the end of 2020. We've taken a look at the best 10 electric SUVs on sale right now. All of these cars are significantly cleaner than their combustion-powered counterparts, and as national energy supplies become increasingly less dependent on fossil fuels, the gap will continue to grow. But there's other benefits to EVs too, including quieter powertrains and smoother power delivery.
Below we examine the best electric SUV options on the market right now...
10. Hyundai Nexo
Strictly speaking, the Hyundai Nexo isn't a fully electric vehicle. Like every other car in this top 10, it does still have a lithium-ion battery, but at 1.56kWh, it's much smaller than the alternatives here. The Nexo's party piece comes from a hydrogen storage tank. The hydrogen reacts with oxygen drawn in from the air to generate electricity, driving a 159bhp electric motor, and leaving water as the sole tailpipe emission.
It drives much the same as any other EV - very smooth, quiet and pleasant in other words - but hydrogen is far more energy dense than a battery so the Nexo has a much better range. Officially, it'll cover 414 miles between refueling stops; a process which takes only five minutes.
However, as it stands, hydrogen fueling stations are hard to come by - there's fewer than 10 in the UK - and at £65,995, the Nexo is pricey. However, this is a tech that we'll see much more from in the future; not necessarily in passenger cars but, as Hyundai itself predicts, it looks certain to become the fuel of choice for larger commercial vehicles.
9. DS3 Crossback E-Tense
DS is in an early phase of its life, following its emergence as a distinct brand within the PSA Group alongside Peugeot, Citroen and Vauxhall. And it's getting in on the electrified act quickly - the DS3 Crossback is available in petrol and diesel form but the E-Tense model features an electric motor and a 39kWh battery for full zero-emission driving.
Purely from a driving point of view, this is the pick of the DS 3 range - the smooth, silent powertrain is a perfect match for the slightly quirky but beautifully finished cabin. With 134bhp and instant torque on tap, performance is more than adequate for a car of this size; it feels fairly smart to drive, and a real-world range of around 200 miles is more than good enough. If you value individuality, and if practicality isn't a priority from your compact SUV, then the DS 3 is well worth a look.
8. MG ZS EV
The MG ZS EV has one big thing going for it, and that's price. At around £25,000, it's among the cheapest electric cars of any kind on sale today - impressive considering that it's crossover body style makes it more practical than others at a similar price point.
And even though it's cheap, on paper, the ZS doesn't want for much; it'll crack the 0-62mph time in a sprightly 8.5 seconds, it'll cover over 160 miles on a charge, and 50kW rapid charging means that a battery top-up top to 80 percent takes a reasonable 40 minutes.
7. Tesla Model X
The Model X was the first proper electric SUV, and in some ways, it still holds a solid argument for being the best. Tesla's biggest trump card is its straight line speed: in its top spec Performance trim, the Model X is the only SUV on sale today that can launch itself and seven people - and it will seat seven adults easily - at a rate that's on par with the most extreme supercars.
In real-world driving, it'll cover an impressive 300-plus miles between charges too - a process that's made all the easier by a widespread Tesla Supercharger network. As brilliant as the Model X is in some areas, fresher rivals have moved the game on when it comes to comfort, refinement and build quality.
6. Audi e-tron
Few cars on sale today can claim to be as relaxing to drive as the Audi e-tron. The ride comfort is wonderful, the outside world is barely a distant murmur from within the cabin, and the powertrain is far smoother than in any combustion Audi. As first attempts at full EV's go, Audi's is certainly a hit.
And Audi isn't sitting back and admiring its first EV attempt either. Barely a year after its release, steps have been taken to address the e-tron's weak point: range. Improved cooling and brake regeneration tech, among other things, mean that the latest version will now officially hit 250 miles between charges.
5. Peugeot e-2008
Under the skin, the Peugeot e-2008 is very similar to the DS 3 Crossback further up this list. Both share the same electric motor producing 134bhp and 260Nm, both use a 50kWh battery pack to deliver a circa-200 mile range, and both use PSA's e-CMP platform. However, the Peugeot's underpinnings are longer between the wheels, so the e-2008 is more spacious inside, both for rear seat passengers and in the boot.
The Peugeot is also cheaper. Prices for the e-2008 start at just under £29,000 including the government's plug-in car grant, while the DS 3 Crossback costs over £3,000 more. And when compared to other small electric SUV rivals, the 2008 leads the way in terms of both style and build quality.
4. Mercedes EQC
Mercedes is a brand known for comfort and refinement, and to that end, the EQC's electric powertrain fits that brief perfectly. This is a car that can make you emerge from the slog of a daily commute feeling just as content as you did in the beginning.
It's deceptively quick, too. The EQC uses a dual electric motor setup to deploy a whopping 402bhp to all four wheels. It may tip the scales at a hefty 2.5 tonnes, but it'll still blow the typical hot hatchback away from a set of traffic lights. It'll do so in silence, too, so nobody will scowl at you.
When we tested the ECQ back-to-back with the Audi e-tron, the pair were very closely matched. However, the Merc got the nod thanks to a superior range, even if the e-tron is ever so slightly roomier inside.
3. Hyundai Kona electric
For many EVs on sale today, buyers are left with a compromise: either buy one that's relatively affordable, or get one with a good range. The Hyundai Kona electric is a car that's perhaps the closest to delivering on both counts. For only a couple of grand more than a top spec petrol automatic Kona, the zero-emission version manages to return an official range of 278 miles - just enough to drive from London to Newcastle on a single charge.
Unlike some of the larger SUVs in this list, it doesn't feel particularly burdened by a heavy battery. Sure, with the largest 64kWh pack on board, it'd be a stretch to call it fun to drive, but it feels sprightly in a straight line and more than capable enough for a typical family car.
2. Kia Niro EV
The Niro EV is essentially Kia's take on the Hyundai Kona electric in third spot. While both are brilliant EVs, we'd go for the Kia, purely because it's a little more practical. For those who want a slightly quirkier take on the same formula, Kia also offers the Soul EV, which benefits from the same electric motor and battery.
Otherwise, the pair are very similar to drive. The controls are light and precise, so the Niro is easy to drive around town, while the 201bhp motor means that the Niro still feels punchy enough at motorway speeds.
An update in 2020 improved on the already slick infotainment system - the latest 10.25-inch display is among the best in the business.
1. Jaguar I-PACE
Is there a more desirable EV on sale than the Jaguar I-Pace? With looks that are as dramatic and sporty on the outside as they are posh and sumptuous inside, Jaguar's electric SUV looks both completely unique yet unmistakable Jaguar at the same time.
But there's plenty of substance to back up those looks. For a car that weighs two tonnes (and then some), the way the I-Pace both rides and handles is deeply impressive, while the 396bhp output means that it delivers a sub-five second 0-62mph time. At 200 miles or so, the range could be better, but otherwise the I-Pace is a brilliant all-rounder. No wonder, then, that it was good enough to scoop the prestigious Auto Express Car of the Year award in 2018.
Not sure about going all electric just yet, then check out our list of the best hybrid SUVs to buy....