Jaguar I-Pace - Best electric cars
Game-changing SUV puts Jaguar at the front of the premium EV pack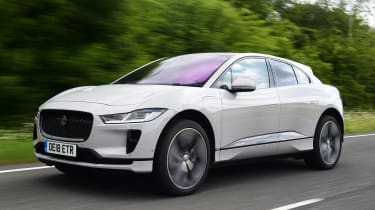 With a string of great new models introduced in the past few years, Jaguar is on a roll. But the I-Pace marks a new direction for the company, and it means it now has a premium electric SUV on its books that has not only beaten its German rivals to market, but has the measure of electric pioneer Tesla, too.
It's based on an all-new bespoke electric car platform that places the batteries low in the chassis and adds electric motors front and rear for four-wheel drive. This means excellent grip and traction, and far better handling than a Tesla Model X. Those motors produce 395bhp, so while the I-Pace doesn't have the searing acceleration of the fastest Tesla's, a 0-62mph time of 4.2 seconds is still more than fast enough by anybody's standard.
More importantly, Jaguar claims a range of almost 300 miles, so you should easily be able to cover 150 miles before any serious charging will need to be done. Unfortunately, a flat battery will take 12 hours to recharge on a standard mains plug, but fast-charge options are available that can drastically reduce these charge times.
Best electric cars to buy 2019