Nissan Leaf - Best electric cars
The Nissan Leaf was the first mass-produced EV to go on sale in the UK, and the Mk2 has moved things even further forward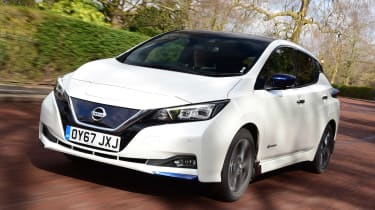 The second-generation Nissan Leaf aims to take electric cars into the mainstream, with a claimed range of 217 miles on a full charge. While achieving that figure under normal driving conditions may be optimistic, you should still be able to easily cover 150 miles – even with some motorway driving - without worrying about the battery going flat.
As the original Leaf was an electric pioneer, it's no surprise that Nissan has developed its chassis and running gear for the Mk2 version, rather than opt for a clean-sheet design. 
The big changes lie within the electric drive system, though. There's a new electric motor that produces 148bhp and 320Nm of torque, while the 40kWh lithium-ion battery pack has improved energy density so it can store 67 per cent more power, even though the pack is the same size as the old model's. This is mounted low in the Leaf's platform under the passenger compartment, with the electric motor and single-speed gearbox up front.
As expected, the new Leaf delivers the kind of instant acceleration for which electric cars are now famous. Nissan quotes a 0-62mph time of 7.9 seconds and, while that's slower than some of its rivals, the car still feels sprightly enough away from the lights. 
Overall, the Leaf' driving experience is relaxing rather than exciting. A low drag coefficient means there's not much wind noise, while road noise is well suppressed, even at higher speeds. Mounting the battery low down makes the Leaf stable in corners, while a suite of electronics from the Qashqai helps it handle tidily.
Best electric cars to buy 2019