Peugeot 308 SW BlueHDi review
Peugeot 308 SW BlueHDi gets very impressive efficiency figures, but can it match its rivals in other areas?
The 308 has one or two obvious flaws, but for this BlueHDi model, economy is the priority - and with 60mpg possible, it really delivers. Plus, its starting price and decent equipment embarrass its most obvious rivals, making it a genuine eco estate contender.
We know all about Ford's ECOnetic and Volkswagen's BlueMotion eco labels, but it's worth keeping an eye out for Peugeot's BlueHDi engines,used here in the new Peugeot 308 SW.
This 1.6-litre diesel estate will achieve 88.3mpg and emit only 88g/km - compare that to the less powerful Focus Estate Titanium ECOnetic, with 76.4mpg and 99g/km, and you realise just how impressive it is. When it comes to the world of company cars, the emissions are a serious trump card.
Then there's the equipment; Peugeot offers the BlueHDi 120 engine in mid-spec Active and Allure 308s. We tested the latter, and the standard kit list humbles the spartan Golf S that VW chooses to base its Bluemotion on.
For £21,645, your Allure BlueHDi gets full LED headlights, foglights, a 9.7-inch sat-nav touchscreen, reversing camera and parking sensors, electric door mirrors and climate control. An equivalent Golf Estate BlueMotion would cost more than £24,000. Even the plush Ford Focus ECOnetic Estate is £22,345. All sound too good to be true? The caveat is a predictable one, and not the eco engine's fault - the base car itself isn't entertaining. The 308's quick but light steering and awkward driving position mean a Focus is still more fun.
It's ironic that the 308 ad campaign promotes 'driving sensations' that the car doesn't excel at, because otherwise, it's a great way to travel. The turbodiesel is well mannered, with far less in-cabin vibration than the BlueMotion.
Road noise is also suppressed. And the materials are better than anything in the class bar the pricey Audi A3. The quality, economy and refinement make it one of Peugeot's strongest all-rounders.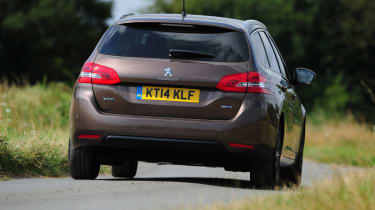 The Peugeot's interior uses high-quality materials, but the 9.7-inch touchscreen isn't the most intuitive and needs speeding up. The modern cabin is simple and well designed with some classy materials and our only gripe is with the cheap plastic CD stack and the sat-nav. It comes really well equipped too, and reversing sensors, dual-zone climate control, the big touchscreen sat-nav and an electric handbrake are all standard on Active model.
The only downside is that this version cannot be fitted with the Driver Assistance Pack, which includes adaptive cruise control and an emergency braking system. It cuts the insurance rates for the car, but is only available on Allure trim and up.