Tesla Model S - Best electric cars
Who says electric cars can't be fast or luxurious? Tesla's Model S does both while incorporating groundbreaking design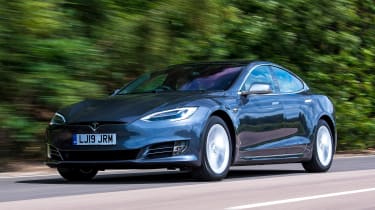 After establishing itself with the Lotus Elise-based Roadster, Tesla's Model S proved to be the breakthrough car for the US firm.
And rightly so; you simply won't have come across a car like the Tesla Model S before. This all-electric saloon is as quick as a Porsche, as luxurious as a Mercedes and as eco-friendly as a Nissan Leaf.
It's roughly the same size as a BMW 7 Series and comes packed full of technology that you've probably never seen before in a production car. Take the all-electric powertrain for a start, which – depending on model – has a range of 311 miles. Most electric cars struggle to hit 100.
The futuristic cabin doesn't have a handbrake or a start button – you just get in and go. There's a huge 17-inch touchscreen in the centre console rather than traditional buttons, and you can even get a pair of seats in the boot to make the Model S a seven-seater.
Buyers can choose between a 60kWh battery with a 208-mile range or the larger 80kWh battery with the full 311 miles. There's also an 80kWh Performance, which drops the 0-60mph time from 5.4 to 4.2 seconds.
Most pure electric cars on sale in the UK right now are supermini-sized or smaller, but the Model S targets larger models, sitting somewhere between the BMW 5 Series or Mercedes E-Class and the Audi A8, BMW 7 Series and Mercedes S-Class.
Best electric cars to buy 2019