Kia e-Niro - Best electric cars
Kia's electric SUV offers a big electric range at an affordable price point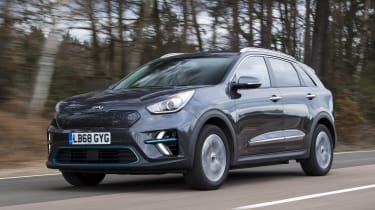 The pace of electric car development is relentless at the moment but the Kia e-Niro has arrived on the scene and taken a lead at the affordable end of the market. Using the same electric powertrain as the Hyundai Kona Electric, it's a compact crossover with a 282-mile official range and a spacious interior that can be had for around £33,000.
The e-Niro looks similar to other Kia Niro models, there are also hybrid and plug-in hybrid options in the range, but there's the telltale blanked-off grille to underline the fact than no internal combustion engine is present.
The interior is much the same as any other Niro - functional but not too exciting to look at with a slick infotainment system and space for five passengers. What does change is the standard gear selector, it's swapped for with a rotary dial and that creates a little extra storage space. The 451-litre boot is very generous and there's a compartment under the floor for the charging cables.
The e-Niro has a 201bhp motor driving the front wheels with power supplied from the 64kWh battery pack. The system is shared with the Kona Electric and it lifts e-Niro's performance well beyond that of the hybrid and plug-in Niros. It's much more sprightly than any family car this side of a hot hatch – especially in town. Paddles behind the wheel control the strength of the brake energy regeneration system but it's not quite strong enough to let you drive on one pedal like in a Nissan Leaf. Plug the e-Niro into a 100kW fast charger and 54 minutes later you'll have topped up the batteries from zero to 80 per cent. That's quick and the 282-mile maximum range means you won't even be doing it very often.
Best electric cars to buy 2019