Tesla Model 3 - Best electric cars
We've waited a long time for the Tesla Model 3 and find it's in a class of its own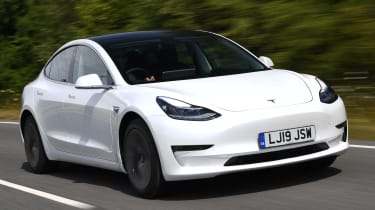 The Tesla Model 3 is the fourth car from the US electric car pioneer and arguably the most important.
Five years ago Elon Musk exclusively revealed the Model 3 name to Auto Express and it's been eagerly anticipated since. That's understandable too as Tesla promised an affordable EV with a range of over 300 miles, but with practical qualities to make it a front runner in not only the electric car segment but also against the likes of the BMW 3 Series and Mercedes C-Class in the compact executive car class.
After testing the Tesla Model 3 we were impressed by its versatility, levels of equipment and performance. In fact, the Model 3 has the best acceleration in its class with a 0-60mph time of 3.2 seconds. This is down to the 75kWh battery which can also give you a range of up to 329 miles in the Performance version.
Thanks to Tesla's unique battery technology, its cars offer the best range of any EV on sale. The Model 3 is heavier than the traditional rivals like the 3 Series and C-Class so its handling suffers as a result, however it does stay flat in the bends thanks to a low centre of gravity.
If you can make use of Tesla's Supercharger network, it'll be very cheap to charge quickly. Add-in Tesla's latest Autopilot automated driving technology and free software updates for the life of the vehicle, and the Model 3 is a tempting ownership proposition. While a starting price of around £38,000 isn't exactly cheap, the Model 3 is one of the very best EVs you can buy and our 2019 Car of the Year.
Best electric cars to buy 2019