Best cars to own: Driver Power 2021 results
UK owners deliver their verdict on long-term life with the latest cars as part of our Driver Power 2021 customer satisfaction survey
Here, a little later than planned, is the Driver Power 2021 new-car survey. We normally aim to bring you this rundown of the 75 best cars on the market in April, but you-know-what meant things took a little longer than usual for us to pull together.
But now we're here, I'm pleased to say that as well as being the 20th anniversary of Driver Power, the survey is more comprehensive than ever. We've added new questions to the safety and infotainment sections, created a category asking how much value for money your cars offer, while rigorous statistical analysis means the experiences here are representative on a national level based on respondents' age and gender.
This has resulted in a more robust, valuable and detailed set of results than ever. I hope you find Driver Power 2021 a useful and enjoyable read, and thank you once again to everyone who completed the survey, took part in our interviews and photoshoots, and made Driver Power possible this year.
• Click here to take our Driver Power survey right now
Below are the full results of the 2021 Driver Power new car survey. Click on to page two for the best cars to own in each market segment, from city cars to SUVs...
Driver Power 2021: the top 10 best cars to own
1. Hyundai Kona – 92.35%
Years of manufacture: 2017-present
Key points: Top-10 scores in almost every category secure top spot for Korean SUV
Taking one category win, five podium finishes and coming at the top of our 2021 new-car survey is the Hyundai Kona. It's available as a conventional petrol car, a standard Prius-style hybrid, or as a full EV, but it seems that whichever model you choose, you could hardly be happier.
The ride and handling category is where the Kona gets its gold medal, thanks to a top-flight rating for the brakes, a stellar score for ride quality, highly rated steering, and an excellent mark for the pleasure it gives you at the wheel.
Everywhere you look, the Kona's scores impress. It's cheap to run, you say, with that perfect combination of high fuel economy and low servicing costs; excellent reliability is underscored by a strong sense of quality, too, while few other models offer such good value for money.
And, at the risk of sounding like broken records, our owners also tell us, once again, that here is a Hyundai with an excellent infotainment set-up. Plus, there are loads of safety systems on offer, which are easy to call into play, and effective in their operation. Interestingly, if we separate out the individual results for the pure electric model, its scores are stronger still. Yet even if an EV isn't quite right for you yet, chances are a different version of the Kona will be.
Living with a Hyundai Kona
Erik Jensen (Lockerbie, Scotland)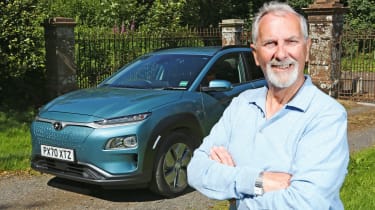 Erik Jensen, a retired instrument technician from Lockerbie in Scotland, was partly drawn to his 64kW Kona Electric by the value for money it offered. "I did quite a bit of research," he tells us, "and the Kona was coming out tops."
That research would seem to have paid off, says Erik: "I really like it, it was well chosen. It's nippy, it's economical – the cost of running it is so low it's unbelievable."
Another of the biggest selling points of the Kona Electric is its range, Erik says: "The last charge was 296 miles, although during the winter it was down to 234 miles – it does vary with the seasons."
Dispelling some of the concerns people may have about EVs, Erik says his Kona has been a great long-distance tourer. "We've been on holiday about 180 miles from here, and a big part of that is on the motorway. But you can just leave it on cruise control; that's one of the top things – the smart cruise control keeps that distance against the vehicle in front of you on the motorway." And if that's not enough, the 6,700 miles Erik has done in his Kona Electric since last October is surely a testament to its usability.
Like many EV owners, Erik had a plug-in hybrid before making the switch. "This is my first full electric car. I had a plug-in hybrid Mitsubishi Outlander two cars back, but you could only do 30-odd miles on that. I suppose it was really that that led me into the EV."
"You get a bit of range anxiety at the start, but I've got over that. If you're going to do a distance, make sure you're fully charged. It's not every day you do 400 miles, anyway."
Your view
"These cars are extremely well put together. No flaws of any description, while the panel fit and finish are beyond reproach."
"Compact, neat looks, a nicely designed, comfortable cabin with plenty of safety systems, and a great, nippy driving experience."
2. Kia Rio – 92.16%
Years of manufacture: 2017-present
Key points: Rio's grand, owners say - there's nothing not to like here
Second place goes to a supermini that at times seems overlooked by the market, if nothing else, but it would appear that the Kia Rio may be something of a hidden gem.
No other car, for example, impresses more with its infotainment system, you tell us, and while more premium machines may have more bells and whistles, what people really want is the approach offered by the Rio. Owners say it strikes a better balance between physical and touchscreen controls than any other car in our rundown, and no other system gets a better score for the sensitivity of its screen. So while there is undoubtedly a sense that expectations of supermini owners may have some impact on scores, what we know about Kia's infotainment means this is no anomaly; the Rio's system is the right one for this car, no question.
You also love the low running costs, with a second-place finish for fuel economy alone indicating another key supermini trait is present, while the Rio is a comfortable, spacious, reliable, good value, safe-feeling model.
As with other cars in the upper echelons of our rundown, there are no real downsides to the Rio, you say. When the lowest individual score for the 30-plus areas we ask about is 26th out of 75, it's fair to say the Rio does nothing wrong.
Living with a Kia Rio
Lesley Haworth (Bolton, Lancashire)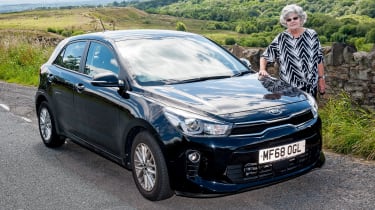 Retired computer analyst Lesley Haworth, from Bolton, Lancs, bought her Kia Rio in 2018, and while she may have only put 10,000 miles or so on the clock since then, she has found the Korean supermini to be a very satisfactory car.
"I had a Rio before," Lesley told us. "I owned a 2011 model, and I was pleased with it. I really like the smoothness of this model and the economics of it. It's really light to drive, and has never given me any trouble since I bought it." Despite her car being a supermini, Lesley says it has a spacious cabin, adding: "It's definitely big enough for me, it's very roomy inside."
Much of the Rio's technology appeals to Lesley as well. "I use the reversing camera, and I use the wireless phone connections," she explained, adding: "My son lives in Hampshire, which is 250 miles from me. It's great on a long run like that.
"I'm not young, you know; I'm no dolly bird, but it's just right for me. The Kia dealer has been excellent as well."
Your view
"Good fuel consumption, comfortable, has all the safety features, is reasonable to insure and fits into parking bays and is easy to manoeuvre."
"ABS and traction control operate without fuss when required, and the collision-warning system gives me a further sense of security."
3. Mazda CX-5 – 91.65%
Years of manufacture: 2016-present
Key points: Nothing looks as good as the CX-5, and little drives as well, either
Given the constraints placed upon car designers by packaging, aerodynamic, engineering, marketing and safety requirements, it's a wonder aesthetically pleasing cars get made at all. And when they do appear, it's all the more impressive when they're tall, relatively bulky SUVs.
Yet the handsome Mazda CX-5 has daring slashes above the headlights, a proud nose and some eye-catching paint options, all of which may explain why it tops our exterior category, mainly thanks to a first-place score for its styling.
You don't quite score the CX-5 well enough to give it further gold medals, but a silver for the interior, and a bronze for ride and handling show the CX-5 impresses outside, inside, and on the road.
But the CX-5's talents don't stop there, you say, because it gets a podium for reliability and build quality, while owners love the infotainment, and say this is a car that does all of the above while also being strong value for money.
There are no real downsides to the CX-5, it would seem, just upsides with less up. Yet if we were to highlight chinks in its armour, we would point you towards acceleration, which is the one area where a mark is given for the Mazda that is anything other than strong.
Living with a Mazda CX-5
Gordon Thompson (Tyne and Wear)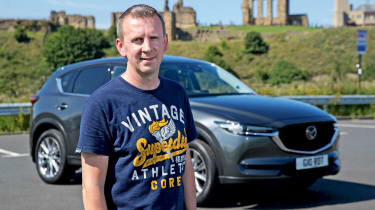 Gordon Thompson, a charge nurse from Tyne and Wear, bought his petrol Sport Nav+ CX-5 just before the March 2020 lockdown, and has put 7,000 miles on it since then, but he previously owned the same generation of CX-5.
"The only reason I upgraded was the dealer offered me the new car in a higher spec for £20 a month less," he told us. "There's nothing much I don't like about it. I had two Mazda 3s before that, and the CX-5 drives the same if not better. I've never had a car that's high up, and I don't think I would go back down again. I like sitting in a high position."
"It gets good feedback from all my friends. They say they love the look of the car, and the interior quality looks decent as well. The soft-touch dashboard and the leather are nice, everything is really upmarket and it feels really solid."
Gordon certainly puts his CX-5 through its paces. "There's me and my wife, my two daughters and our big five-stone dog in the back, and we tow a caravan", he explained. Yet despite this, the Mazda has proved to be fault-free so far.
"It's been across to the Lake District, down to Bury St Edmunds, and it's going to Harry Potter World soon, so it's got another big trip coming up," Gordon said. "The CX-5 is very comfortable when I'm driving down the motorway. It's nice and quiet inside, it's light and airy, the sunroof is a bonus, it's a great car. I don't want to get rid of this one, but I know when I see the next one, I'll want it!"
Your view
"I like the fact that there are still physical controls for functions you need to use on the move without taking your eyes off the road."
"The CX-5 handles brilliantly and looks great. The cabin is really good, too, and I get the sense that it feels like a more expensive model."
4. Toyota C-HR – 91.07%
Years of manufacture: 2016-present
Key points: A lovely looking, fuel-sipping and sharp-steering SUV
There was a time when Toyotas were considered rather worthy cars, a fallow period between Celicas, Supras and the GR Yaris, when staunchness and dependability were high on the agenda, but excitement and bold designs weren't.
The C-HR arguably represents a turning point for its Japanese maker, though, because in 2016 the SUV arrived offering the high ride height and low running costs people in this market segment were crying out for, but packaged in a body that can be described as daring, at the very least.
It still looks fresh five years after its launch, and you give the C-HR a bronze medal for its exterior, praising both the styling and the build quality. That theme continues when you open the door, where you will be met, owners say, with a neatly styled, superbly built cabin with comfortable front seats. We won't pretend, though, that the C-HR's angular looks don't come with one cost: you report it's not an easy car to see out of, while rear legroom could also be better.
Elsewhere you'll find little to gripe about: second place for ride and handling is superb; sixth for safety tech is very reassuring; and a strong finish for value for money speaks for itself. While the nav and cabin storage could be better, the C-HR's weak spots are minor, and owners seem delighted.
Living with a Toyota C-HR
Dee Benson (Ilkeston, Derbyshire)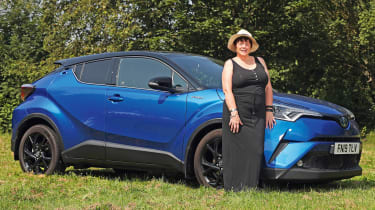 Dee Benson from Ilkeston, Derbyshire, worked for a housing association prior to her retirement, and bought her hybrid Toyota C-HR Dynamic in March 2019.
"It's my treat to me," she remarked. "I like everything about it. I have issues with my back so I need something that gives me support, and it's higher to get into. You've got a great driving position, it's so comfortable, especially on the motorway. I can't think of anything I don't like about it."
Dee has been buying Toyotas since 2009, partly due to the impressive customer service she has received, and partly because of the firm's cars. "I had the old Auris before, and the one thing I particularly like about the C-HR is it goes into electric mode more, and at a higher speed," she added.
"I use all the gadgets with the exception of the self-parking system. I find the blind-spot assistant really helpful on motorways." Dee is a big fan of the C-HR's styling as well, adding: "It's not organic, but it's very dynamic. It's so nice to look at, you almost want to touch it.
The car is a hit on the road, too. "It's so lovely to drive. My partner has a Toyota GT86 and he gets in my car as much as he gets in his! He loves my C-HR," Dee explained.
It's perhaps unsurprising, then, that Dee has already chosen her next car – and it's going to be another C-HR. "I'm having a new one in 2022," she told us. "I've already chosen my colour. I love them!"
Your view
"The best car I have ever driven; superb acceleration, comfy driving position. Plus it looks damn good, which was the first thing that attracted me to the model."
"I feel that it's a very well engineered and well put-together car that does what it's designed to do, and to me it's well worth the asking price."
5. Skoda Karoq – 91.00%
Years of manufacture: 2017-present
Key points: Pips its big brother by one place with no real downsides to speak of
If we were to give cars personalities (and let's face it, we do), then there's an element of sibling rivalry at play here, with the smaller, newer, more affordable Karoq edging ahead of its big brother to take a place in the Driver Power top five.
The Karoq may not have the two category wins its seven-seat Kodiaq sibling enjoys, but its aggregate scores are better. For example, while Kodiaq owners say it's a bit expensive to run, Karoq drivers have no such reservations, reporting very low servicing costs and better fuel economy.
You also have more positive things to say about the Karoq's engines than the Kodiaq's, telling of sweeter-sounding motors and perkier acceleration. Moving away from fraternal comparisons, Karoq reliability is a huge plus point, as are its safety systems. You say these are plentiful, work well and turning them on or off is simplicity itself.
And let's face it, it wouldn't be a proper Skoda without a strong score for practicality. Here we find additional good news, with more interior storage than one could shake a stick at, a huge boot, seats that define the very measure of versatility, and features that parents say make life just that little bit easier when kids are in the car (the Karoq can be had with an optional litter bin, after all).
Living with a Skoda Karoq
Richard Bates (Griffithstown, Monmouthshire)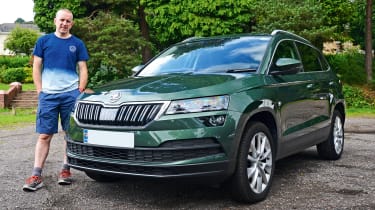 Richard Bates, a home-shopping driver from Griffithstown, south Wales, owned a Vauxhall Mokka previously, but was after something a little bigger when it was time to upgrade.
After researching and trying a number of cars, he and his wife Joanne settled on the Karoq since it was "far and above anything else we test drove." He adds: "There's lots of space, it's nice and high up, very comfortable, good to drive."
Richard's Karoq is a 1.6-litre diesel SE L, which regularly returns mpg in the high 50s. "It's got sat-nav, DAB radio, dual-zone climate control, and on a motorway I can get more than 60mpg. It's got cruise control, it's got front assist, and it brakes front and back if you get too close to anything. We put the bin out too close behind our car not realising, and reversed and it slammed on the brakes for us."
After three years of ownership, the Karoq is also proving practical, Richard says. "The Varioflex seating has been really handy if we've been taking the dogs on long journeys, because the seats fold, or you can pull them out altogether, leaving you with a completely flat back floor.
"The stereo is good as well, the quality of hands-free phone calls is excellent, and it's got Apple CarPlay, sensors all-round and a reversing camera as well.
"It's done 30,000 miles and I've only had one set of tyres on the front," Richard added. "Anyone asks me, and I'll sing the Karoq's praises."
Your view
"Back seats are excellent. Three individual reclining chairs, and you can remove all three seats to turn it into a Karoq van!"
"The DSG transmission is a pleasure and you don't feel it change gear. It will cruise effortlessly at any speed, while the car is well built and feels safe on the road."
6. Skoda Kodiaq – 90.92%
Years of manufacture: 2016-present
Key points: Heavier on fuel than is ideal, but excellent almost everywhere else
It's hard not to warm to the Skoda Kodiaq and, although things have moved on since it arrived in 2016, there's no denying it's still an immense talent in this sector.
It gets the highest reliability score, for one thing, with both outright dependability and overall build quality rated as number 1 in our spreadsheets. Value for money has a 3 next to it, but this is still a ringing endorsement of Skoda's big bear of an SUV, while the safety kit, driving experience, practicality (another category win) and styling get the nod of approval from owners. Poor fuel economy, high servicing costs and gruff engines are about the only downsides.
Your view
"It looks good, it has a high-quality finish, and its specification outdoes a lot of similar cars costing a lot more."
"There is a good balance between easy-to-use physical controls, and the touchscreen, which stops the dash being cluttered."
7. Vauxhall Grandland X – 90.85%
Years of manufacture: 2017-present
Key points: Strong scores, because almost everything about the Grandland X is liked
The Vauxhall Grandland X is doing a huge amount right, you say. Its drivetrains deliver impressive acceleration, as well as smooth gearchanges, and you also love the infotainment, with every score here respectable, and most very strong.
Add in an impressive roster of safety tech, plus excellent running costs, neat interior styling, comfortable front seats, decent practicality and an abiding sense of quality, and this mainstream mid-size SUV seems to be delivering a fair bit more satisfaction than many of its more premium rivals. Also impressive is that there are no negative spikes in the scores, with everything satisfactory, at the very least.
Your view
"Comfortable seats, a nice, high driving position, a quality-feeling cabin and plenty of bells and whistles."
"Great safety. The cyclist/pedestrian warning is very good, lane departure is nicely judged, and the speed limiter is a godsend in town."
8. Volvo XC40 – 90.60%
Years of manufacture: 2018-present
Key points: Not a value proposition, but XC40 is excellent in almost all other regards
Aside from the fact that the XC40 could offer better value for money and stronger fuel economy, this Swedish SUV ticks almost every box. Being a Volvo, it's perhaps unsurprising that the XC40 is scored so well for its safety systems, while a silver medal for practicality indicates a fair amount of thought went into making the most of the available space.
But while you rate the performance from the XC40's powertrains, your scores indicate models with an internal combustion engine sound a little less refined than you'd like. There are no such complaints with the interior – and no car in this survey has more comfortable seats, you say.
Your view
"Smooth and responsive to drive, while the T5 engine has more than enough power for rapid progress if required."
"The safety systems work in the background without being too intrusive. I particularly like the smoothness of the lane-keep assist."
9. Kia Sportage – 90.51%
Years of manufacture: 2015-2021
Key points: A little more poke wouldn't go amiss, but Sportage is a top choice
Kia has just announced a replacement for this version of the Sportage, and it has some mighty big shoes to fill. But this fourth-generation Sportage does have an Achilles' heel: its engine and gearbox score is lower than we would expect, chiefly due to lacklustre acceleration. Fuel economy is rated more poorly than is ideal, too.
But elsewhere, the news is good. As with almost all Kias, you love the infotainment, while praising the Sportage's spaciousness, its reliability, its driving experience, and the overall styling. You also reckon it's a sound value proposition, and like the safety kit on offer as well.
Your view
"I really like the mix of digital and physical controls. It's easier to turn a knob than use the touchscreen when driving."
"The car has been very reliable. I bought the Sportage, in part, because the Rio I owned previously was so reliable."
10. SEAT Ateca – 90.40%
Years of manufacture: 2016-present
Key points: Top handling and sharp looks from Spanish family SUV
If value for money is key to you, the SEAT Ateca delivers as the second-highest ranked car in this area. It's also one of the more stylish cars, you say, with a strong mark for its looks backed up by a high score for exterior build quality.
The first of the cars in our top 10 also has excellent infotainment, with a great stereo and tip-top smartphone connectivity, while user-friendliness is strong, and the heating and air-conditioning systems are effective.
On the road, only a slightly harsh ride detracts from an otherwise impeccable set of scores. Plus, you report the Ateca is good on fuel, and cheap to service.
Your view
"Body control is firm but comfortable. The car can ride smoothly over poor surfaces, yet body lean isn't pronounced."
"The steering is the best I've ever encountered given the size of the car. It really gives a fun driving experience."
Best cars to own: places 1-75
| | | |
| --- | --- | --- |
| 1 | HYUNDAI KONA | 92.35% |
| 2 | KIA RIO | 92.16% |
| 3 | MAZDA CX-5 | 91.65% |
| 4 | TOYOTA C-HR | 91.07% |
| 5 | SKODA KAROQ | 91.00% |
| 6 | SKODA KODIAQ | 90.92% |
| 7 | VAUXHALL GRANDLAND X | 90.85% |
| 8 | VOLVO XC40 | 90.60% |
| 9 | KIA SPORTAGE | 90.51% |
| 10 | SEAT ATECA | 90.40% |
| 11 | TOYOTA RAV4 | 90.30% |
| 12 | PEUGEOT 2008 | 90.23% |
| 13 | LEXUS NX | 90.15% |
| 14 | FORD PUMA | 89.95% |
| 15 | KIA NIRO | 89.92% |
| 16 | DACIA DUSTER | 89.86% |
| 17 | KIA CEED | 89.67% |
| 18 | TESLA MODEL 3 | 89.43% |
| 19 | FORD KUGA | 89.35% |
| 20 | KIA PICANTO | 89.35% |
| 21 | TOYOTA YARIS | 89.32% |
| 22 | AUDI Q3 | 89.24% |
| 23 | MERCEDES-BENZ A CLASS | 89.08% |
| 24 | VOLKSWAGEN T-ROC | 88.89% |
| 25 | HONDA CR-V | 88.49% |
| 26 | NISSAN JUKE | 88.40% |
| 27 | HYUNDAI IONIQ | 88.19% |
| 28 | VAUXHALL CORSA | 88.17% |
| 29 | RENAULT CLIO | 88.15% |
| 30 | MINI COUNTRYMAN | 88.12% |
| 31 | BMW 3 SERIES | 88.00% |
| 32 | TOYOTA COROLLA | 87.97% |
| 33 | HONDA JAZZ | 87.95% |
| 34 | KIA STONIC | 87.89% |
| 35 | FORD ECOSPORT | 87.70% |
| 36 | SEAT LEON | 87.51% |
| 37 | RENAULT CAPTUR | 87.33% |
| 38 | MERCEDES-BENZ GLC | 87.20% |
| 39 | SEAT ARONA | 86.47% |
| 40 | NISSAN LEAF | 86.45% |
| 41 | MG MOTOR UK ZS | 86.43% |
| 42 | MERCEDES-BENZ E CLASS | 86.42% |
| 43 | SKODA OCTAVIA | 86.37% |
| 44 | BMW 2 SERIES | 86.31% |
| 45 | HYUNDAI I10 | 86.30% |
| 46 | BMW 1 SERIES | 86.22% |
| 47 | SUZUKI VITARA | 86.09% |
| 48 | VOLKSWAGEN POLO | 86.09% |
| 49 | BMW 5 SERIES | 85.56% |
| 50 | PEUGEOT 3008 | 85.46% |
| 51 | PEUGEOT 208 | 85.42% |
| 52 | NISSAN QASHQAI | 85.36% |
| 53 | AUDI Q2 | 85.35% |
| 54 | MERCEDES-BENZ GLA | 84.73% |
| 55 | AUDI A3 | 84.49% |
| 56 | BMW 4 SERIES | 84.43% |
| 57 | HONDA CIVIC | 84.34% |
| 58 | SEAT IBIZA | 84.31% |
| 59 | MINI HATCHBACK | 84.16% |
| 60 | TOYOTA AYGO | 84.08% |
| 61 | BMW X3 | 83.82% |
| 62 | VOLKSWAGEN TIGUAN | 83.71% |
| 63 | FORD KA+ | 83.38% |
| 64 | HYUNDAI TUCSON | 83.26% |
| 65 | AUDI A4 | 82.79% |
| 66 | AUDI A1 | 82.20% |
| 67 | FIAT 500 | 81.88% |
| 68 | FORD FIESTA | 81.83% |
| 69 | VAUXHALL ASTRA | 81.54% |
| 70 | BMW X5 | 81.33% |
| 71 | MERCEDES-BENZ C CLASS | 81.09% |
| 72 | FORD FOCUS | 81.01% |
| 73 | VOLKSWAGEN GOLF | 80.27% |
| 74 | BMW X1 | 79.05% |
| 75 | DACIA SANDERO | 78.06% |