Vauxhall Corsa fires: close to 1m cars could be affected
The Vauxhall Corsa recall is for 1.4-litre petrol versions of the Corsa D but now Corsa E models could also be in the firing line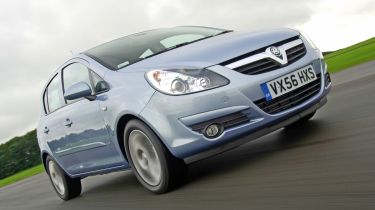 Vauxhall appears to have another vehicle fires crisis on its hands after an investigation by The Sun newspaper indicated that far more Vauxhall Corsa models than first thought could be vulnerable to bursting in to flames.
The investigation by 'expert engineers' from GBB engineering group suggests that 865,000 Vauxhall Corsa D and E models suffer from a heater wiring fault that can cause fires behind the dashboard. If proved to be true, this would mean that every Vauxhall Corsa built since 2006 could be affected. It's also suggested that the problem is a smilar one to that sparked the Zafira B fires recall of 234,938 models in the UK.
• How to check if your car is subject to a recall
Philip Hoyes, the engineer who authored the report, explained that: "The resistive heating associated with Zafira B failure mode 2 has also been identified in the heater wiring harnesses of Vauxhall Corsa D models. "A fire damaged Corsa D, with a history of wiring harness damage, was examined to reveal an origin of fire in the region of the heater system."
In the wake of the report the Driver and Vehicle Standards Agency has since launched an investigation into both Corsa D and E models. DVSA Chief Executive, Gareth Llewellyn, said: "DVSA's first priority is to protect everyone from unsafe vehicles and drivers. We are investigating reported faults with Vauxhall Corsa D and E models. We've also made it clear that it's vital that Vauxhall should be doing everything possible to ensure the safety of its customers and their families."
Llewellyn also confirmed the DVSA is "working with the Department for Transport to consider further action."
Vauxhall's response to Corsa fire claims
In response to the claims made in The Sun, the manufacturer said that: "Vauxhall has no confirmed reports of vehicle fires originating in the vehicle heating and ventilation system of the Vauxhall Corsa D/E".
The report had also suggested that the affected heater components in the Corsa appeared similar to those used in the Hummer H3, which was recalled in America last year for similar reasons. Vauxhall's parent company, General Motors, owned Hummer at the time but Vauxhall has said there is no basis to the claims: "There is a different vehicle heating and ventilation system configuration in Corsa D/E to the Hummer H3, inclusive of a different connector."
National database to record causes of vehicle fires?
While investigating the Corsa fires issue, BBC Watchdog has found that details of vehicle fires are not always passed on to the Driver and Vehicle Standards Agency. This has prompted the Transport Select Committee to call for a national database to record car fires in the future.
Rob Flello MP and member of the committee said: "I think a database would certainly help the consumer. But it would also, of course, help the manufacturer to make sure the cars that we buy are the safest cars possible."
Vauxhall Corsa fires recall
Vauxhall has already issued a Vauxhall Corsa recall for the 2,767 vehicles affected by the issue. This move came after owners of the fourth-generation Vauxhall Corsa D, built between 2006 and 2014, reported cases of the vehicle catching fire. In April 2016, Vauxhall identified a fault with the braking system in some 1.4-litre petrol Corsa D models where water could get in and fry the electronics, causing a fire. At the time Vauxhall stated that this Corsa issue was not related to the Zafira fires.
Vauxhall said that nine cases had previously been reported to it, of which two had resulted in a fire. As a result, company issued the safety recall in April 2016 for 2,767 vehicles affected.
• Car recalls UK: check if your car is subject to recall
However, seven Vauxhall Corsa D owners had also contacted the BBC's Watchdog about their car catching fire, with three of the cars falling under the existing Corsa recall criteria, and four outside it. Vauxhall sold over 700,000 Corsa D models between 2006 and 2014 in the UK and the news left owners asking for more answers from Vauxhall. The latest evidence that more Corsas could be in danger of catching fire will only intensify those calls.
In 2007, Vauxhall also recalled 200,000 previous-generation Vauxhall Corsa C models built between 2003 and 2005 over a fire risk after an attempted fix to a short circuit in the anti-lock braking system failed to cure the "thermal incidents" where owners reported cars spontaneously bursting into flames on driveways.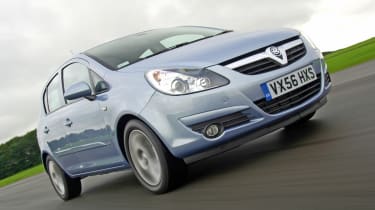 Vauxhall Corsa fires and insurance implications
In January 2016, Auto Express reported on a 1.4-litre Corsa D owner finding their car ablaze at 11.30pm. after it had been parked on the driveway for hours. Unfortunately, Vauxhall said it could not investigate the matter as "the car belonged to the insurance company," and it was up to the insurer to determine whether to launch an investigation.
With fire incidents, insurers will often take ownership of the vehicle and launch their own investigation, leaving manufacturers like Vauxhall unable to analyse the vehicle themselves.
With regards to the other owners reporting fires, Vauxhall says it "takes any report of fire very seriously" and would prefer to conduct a joint investigation with the customer's insurer, but "for a variety of reasons this is not always possible."
A spokesman from Vauxhall said: "Customer safety is of the utmost importance and we take any report of fire very seriously. Fires can occur for a wide variety of reasons and it's worth noting that, on average, there are 18,000 vehicle fires a year across all manufacturers in the UK. It is estimated that there are around 35 million vehicles registered in the UK."
Is this another fire-scandal in the making for Vauxhall? Tell us in the comments below...