Best new cars for 2020 - pictures
Gallery of the best new cars coming in 2020
We're expecting a stunning collection of new cars to arrive in 2020, and here they all are...

A huge amount is riding on Aston Martin's DBX but the early signs are good. Strong on-road and off-road capability coupled with a comfortable ride and plenty of space means that the dbx looks worthy of its £158,000 price tag.

The Aston Martin V12 Speedster is one of the brand's most exclusive models with just 88 being produced. Powered by a 690bhp 5.2-litre V12 engine, the roadster can hit 0-62mph in just 3.5 seconds which could led to some very windswept hairstyles.

The Aston Martin Vantage has lost its roof and none of its potency in Roadster guise.

The new Audi A3 has grown in size and piled on the technology in this all-new form. Fast S3 and RS3 versions will follow.

As is the fashion these days, the Audi e-tron SUV now has a coupe SUV cousin in the shape of the e-tron Sportback. Audi says the range is 216 miles for the 50 and 278 miles for the 55 versions.

Bentley isn't known for pushing the stylistic boat out but it certainly has with the Bacalar. This bold roadster costs £1.5m and only 12 will be built.

BMW's first all-electric SUV is the iX3 and it promises 273 miles of range from a 282bhp motor.

Like night follows day, the new BMW 3 Series will be followed by a searing hot M3 version. We're expecting 510bhp from the twin-turbo straight-six.

The first car to sit exclusively under SEAT's Cupra performance brand will be the Formentor. It's a performance SUV with a plug-in hybrid option.

The Cupra version of the new SEAT Leon will get a choice of powertrains. That means 242bhp or 296bhp from the VW Group 2.0-litre turbo petrol engine or 242bhp from a 1.4-litre plug-in hybrid set-up. It'll be quick whichever way you go.

The epic Ferrari 812 Superfast is getting a convertible model called the 812 GTS. The 790bhp 6.5-litre V12 will probably sound even better, if that's possible.

The Ferrari Roma is due to slot into the line-up between the Portofino and the F8 Tributo with a classy, minimal look and 612bhp V8 power.

It's a busy year for Ferrari and the SF90 Stradale, the firm's first plug-in hybrid, is all set to join the new model rush.

The new Ford Kuga lands in a hotly contested compact SUV sector with a wide range of petrol, diesel, hybrid and mild hybrid powertrains.

Ford's aiming for big sales from its first proper all-electric vehicle. The Mach-E crossover offers usable range, performance and plenty of kit - as long as you're prepared to pay.

With new hybrid engine tech and a host of safety features, the tardis-like Honda Jazz just got a bit smarter.

It's all change for the Hyundai i20. Out with the ultra-safe design, in with sharp looks, hybrid engines and new determination to shake up the supermini market.

Rugged 4x4 looks, matched with the latest EV technology, Jeep will be hoping for big things from its all-wheel drive Renegade PHEV

The Kia Sorento seven-seater family SUV was recently voted 'Best car to own' in our Driver Power customer survey. The new third-generation car should prove to be a winner, too.

Land Rover knew it couldn't fail with the new Defender. And it hasn't - it's spectacularly good and supremely capable. Buy one if you can.

All-electric. British. Hypercar. Sounds good to us... With a target power output of 2,000PS and 0-62mph in under 3 seconds, all it needs is a decent range. Well, Lotus has that covered, too, with a claimed 250 miles.

When discussing a new McLaren, the numbers generally do the talking. So, based on the 720S, the new 765LT is 80kg lighter, has 25 percent more downforce and is the most powerful LT ever made… 754bhp and 800Nm of torque, from a 4.0 litre twin-turbocharged

The 804bhp limited run Elva roadster has no roof, windscreen or side windows, but in typical McLaren style there's new aero tech to ensure drivers are, at least, a little protected. The Active Air Management System pushes air through a large inlet in the

With a central driving position, the McLaren Speedtail gives just a little nod to the iconic F1. It's the fastest accelerating McLaren model to date and uses the full force of the 1,035bhp petrol-electric powertrain to push past 250mph.

Mercedes' E-Class is the company's best-selling model ever. With customers leaning more and more towards SUVs and crossover vehicles, Mercedes will hope new petrol, mild hybrid and plug-in hybrid versions, along with improved equipment levels, can give th

The all-electric EQA is expected to launch later in 2020 as a compact crossover. The new car is closely related to the GLA, with Mercedes claiming a maximum 250-mile range and decent performance from the most powerful 268bhp-plus version.

Mercedes claims its new electric luxury passenger van can cover 250 miles on a single charge. And, with a rapid-charging function, the EQV can reach 62 miles of range in just 15 minutes.

There's a definite focus on comfort and practicality with the Mercedes GLA - with more headroom up front, increased rear legroom and a bigger boot.

If there's a product niche somewhere, rest assured Mercedes will fill it. The GLB is a small SUV that comes as either a five- or seven-seater and a very handy 560-litres of boot space.

For those that like their SUVs just a little bit sportier looking, Mercedes has introduced the GLE Coupe with improved passenger space, while the top-spec AMG GLE 53 uses mild-hybrid tech for a total power output of 429bhp and a 0-62mph time of 5.3 second

Mercedes' most luxurious SUV uses a turbocharged 4.0-litre V8 and 48-volt hybrid system, with lots of customisation options

The S-Class luxury limo will be available with a familiar exterior design, but lots of new on-board tech - including a Tesla-style screen on the centre console.

This staggeringly-quick, two-seater hypercar uses the same 1.6-litre V6 hybrid petrol engine as the Mercedes-AMG Petronas Formula One Team, with a total of four electric motors and top speed in excess of 200mph.

Strong new exterior design and infotainment upgrades mark out the new Mirage from its predecessor, although it keeps the same 1.2-litre, three-cylinder petrol engine.

Yes, there's still the famous ash-wood frame, but the Plus Four is built on a new bonded-aluminium platform and is powered by a BMW-sourced, 255bhp four-cylinder 2.0-litre petrol engine.

There's plenty of Scandi cool on offer with the Polestar 2, and it's not just on the surface. Volvo's sister electric performance brand has produced a plush executive car with 402bhp, capable of 0-62mph in 4.7 seconds, and a 292-mile range.

Time was when the Turbo badge meant you were driving the fastest 911 going. Now Porsche has the Turbo S, and with its savage 641bhp and 0-62mph time of 2.7 seconds, it'll take some beating.

It's almost a case of 'as you were' for the luxurious Porsche Panamera sports saloon, with just a few light changes to the exterior and potential refreshing of hybrid power.

With petrol-power being ring-fenced for the 911, Porsche went away and did what Porsche does in delivering the new game-changing, all-electric Taycan - already the benchmark for luxury sports EVs.

Renault will be hoping the refreshed, third-gen Zoe hits the sweet spot with improved driving dynamics, a classier interior and, arguably its biggest selling point - a 245-mile electric range.

The new Ghost will ditch the previous-model's BMW 7 Series underpinnings and become a proper part of the Rolls family with an aluminium space-frame chassis, based on the larger Phantom.

SEAT has readied the Leon for continued success in the competitive hatchback market, with smart new exterior styling, improved passenger space and refreshed hybrid powertrain line-up.

Skoda's playing it smart with the new Octavia - evolutionary styling changes and the latest driver assistance and engine tech will keep sales strong.

The Octavia vRS always entertained, but the new hybrid vRS iV offers a 37-mile electric range, plus 242bhp - good for 0-62mph in 7.3 seconds.

Toyota will be expecting much praise for this inspired hot hatch developed by the team responsible for the manufacturer's World Rally Championship cars. With a three-door body, a bespoke suspension set-up, clever four-wheel-drive system and a 257bhp 1.6-l

With bags of room for driver and passengers, as well as a best-in class electric-only range of 38 miles, the flagship RAV4 PHEV will come with generous standard equipment.

The new Shooting Brake will mirror the engine and equipment levels of its handsome saloon sibling, although the sloping rear-end design could polarise some.

New decade, new diesel Golf - and, at 197bhp, it's the most powerful oil-burner Volkswagen's ever used in the popular hatchback range

Volkswagen has wisely chosen to keep things simple with the new Golf GTI - it's the same well-loved set-up of petrol power and front-wheel drive, albeit an upgraded 242bhp.

The heavyweight Golf R packs a 328bhp punch, which makes it the most powerful production Golf ever. Four-wheel drive enables a blistering sprint from 0-62mph in 4.5 seconds.

If you don't fancy the classic Golf GTI or the diesel GTD, the GTE might just fit the bill. Plug-in hybrid technology gives it economy and pace with 242bhp and an electric-only range of 43 miles.

The ID.3 electric car could ultimately rival the VW Golf for importance in the VW model range. Prices from £26,000 and a 342-mile range suggest this could be a real breakthrough EV.

Convertible SUVs are a strange invention but it seems they're here to stay and Volkswagen is swelling the ranks with the T-Roc Cabriolet.
New 2022 BMW M3 Touring officially confirmed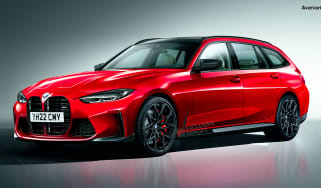 New 2022 BMW M3 Touring officially confirmed
New hot BMW M3 Touring estate on the way and it'll feature the same 503bhp straight-six engine as the saloon. Our exclusive image previews how it coul…
Entire Volkswagen line-up updated for 2021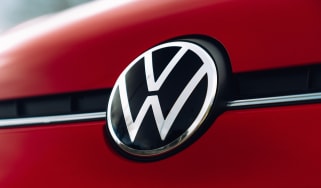 Entire Volkswagen line-up updated for 2021
Volkswagen has revised its complete range of vehicles for 2021, adding new engines, fresh tech and its latest MIB3 infotainment system
New 2020 Audi S3 Sportback blasts in with 306bhp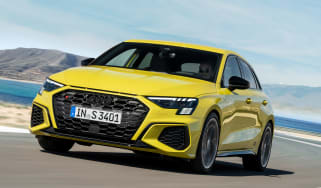 New 2020 Audi S3 Sportback blasts in with 306bhp
Audi's latest hot hatch keeps four-cylinder power but turns up the wick and level of standard tech